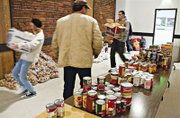 PERRYDALE -- Large stacks of bagged potatoes, squash, apples, oranges and other fresh produce lined the wall of a large room in the Independence Elks Lodge on Thursday.
Just minutes before, a group of Perrydale FFA members swarmed the lodge to deliver the food, which will eventually be packed in food boxes sent to about 110 families through the Elks' holiday food drive.
The pickup truck load of food amounts to about half of what will be packed into each box.
The fresh produce delivery is thanks to Perrydale FFA's exceptionally successful annual Food For All project.
"They were a lifesaver," said Bill Jenkins, Elks past exalted leader and one of the food box program coordinators. "We would have to go out and buy this if they didn't collect it. We would have a hard time raising enough money to pay for this."
The Elks are only one of the organizations that will benefit from the record-breaking 220,000 pounds collected and distributed through Food For All this year.
Perrydale once again surpassed its goal of collecting 215,000 pounds from area farmers and produce distributors and collected about 10,000 pounds more than last year.
Former Perrydale teacher and FFA advisor Kirk Hutchinson still is leading the charge on the project. Despite his retirement, he and the students at Perrydale felt it was crucial to keep the project on the same track it has been.
"It was very important because there were so many families in need," said sophomore Bailey Heide, a member of the Food For All committee. "They almost need us to have a good holiday."
That's not an exaggeration.
According to a distribution list updated on Dec. 14, Food For All will deliver to 36 organizations from as far away as Knights of Columbus in the Coos Bay-North Bend area, where 32,000 pounds of produce will be delivered to help feed 800 families, to as close as Dallas Emergency Food Corporation.
Hutchinson said the impact of the program is far-reaching, but so is the web of those who donate food, volunteers who drive delivery trucks, schools that sort and repack the food, and the organizations that distribute it to people in need.
Photo by Pete Strong
Mikaela DeMoe unloads bags of potatoes in front of the Independence Elks Lodge on Thursday, Dec. 15.
"We have all these partners in every facet of Food For All that make it work," Hutchinson said.
The project began in October, with Perrydale students crafting letters inviting farmers and produce vendors to support the project. As a result, key long-term supporters Montecucco Farms, Amstad Produce, Northwest Onion and United Salad offered nearly 190,000 pounds of produce to serve as a base for the program.
Six Polk and Yamhill county schools -- Perrydale, Willamina, Dayton, Amity, Yamhill-Carlton, and Sheridan -- receive the food. The schools have students and other volunteers repackage it into bags suitable for food boxes.
Sophomore Christina Sekafetz, Perrydale FFA's chapter reporter, said the program would be only half the size it is now without other schools committing to the project.
"Perrydale can't do this alone," she said. "We can't pack 220,000 pounds here."
Altogether, 3,000 families will receive food from the collection plus clients of area food banks that receive what is left over after all orders are filled.
The impact is staggering, but to Sekafetz even more is needed.
"It's really eye opening because you don't really realize there's that many families who need help," she said. "But that still is only a small fraction of those who do."