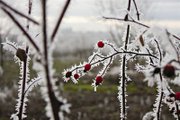 Puzzle competition
slated in Falls City
Wagner Community Library in Falls City is accepting registration from teams of two people for a jigsaw puzzle competition scheduled Thursday, Dec. 29.
The event, which is open to individuals from kindergarten age through adult, takes place at 10 a.m. There will be different age levels and prizes will be awarded.
Deadline to register is Wednesday, Dec. 28.
For more information: 503-787-3521, ext. 319; or visit the library.
Master Gardener
deadline is Jan. 4
The deadline to register for OSU Extension Polk County Master Gardener Volunteer Training has been extended to Jan. 4 at 5 p.m.
Classes are held Wednesdays from 9 a.m. to 4 p.m. from Jan. 11 through March 21 at Trinity Lutheran Church, 320 SE Fir Villa Road, Dallas.
Volunteers receive training in all aspects of gardening including plant and insect identification, orchard management, plant propagation and problem diagnosis. After the training, volunteers contribute 60 hours answering gardening questions from the public and working at various projects.
Registration fee is $100 and includes the Sustainable Gardening Handbook and class supplies. There is a non-volunteer option available for those who cannot contribute volunteer time.
For more information and to receive an application: OSU/Polk County Extension, 503-623-8395; http://extension.oregonstate.edu/polk/polk-county-master-gardener-home-page.
Lions plan meal
for area seniors
Central Lions Club is hosting a free New Year's breakfast for area seniors and their families on Saturday, Dec. 31, at the Monmouth Senior Center, 180 S. Warren St.
The meal will be served from 8:30 to 10:30 a.m.
For more information: 503-838-5678.
New Year's Eve
gospel event set
Westgate Church in West Salem is hosting Pastor Bob Swope's New Year's Eve Gospel Music Celebration Saturday, Dec. 31, from 8 p.m. to midnight.
Scheduled to perform are Angelina McKeithen, a five-time instrumentalist of the year nominee from Nashville, Tenn., The Knox Brothers, Cornerstone, SONrise, and Graber, Souter & Rupp.
Refreshments will be available. Admission is free, but a freewill offering will be accepted.
The church is located at 1675 Wallace Road NW.
For more information: 503-364-0002; www.westgateag.com.
Polk Flea Market
set for 41st year
Looking for something to do on New Year's Day? The Polk Flea Market will be open Sunday, Jan. 1, at the Polk County Fairgrounds and Event Center in Rickreall.
This is the 41st year for this well-known gathering place for local bargain seekers. The Polk Flea Market has more than 100 permanent vendors who fill 185 tables with an ever-changing variety of merchandise the first Sunday of the month from September through July. Shoppers can find everything from antiques and collectibles to crafts, sundries and old tools.
Regular admission from 9 a.m. to 3 p.m. is $1. Early admission from 6 to 9 a.m. is $5. Children 12 and under are admitted free.
For more information: 503-623-3048.
Day hike of LSNA
scheduled Sunday
Luckiamute State Natural Area near Buena Vista will host an America's State Parks First Day Hikes program Sunday, Jan. 1.
The event begins at 10 a.m. and meets at the Luckiamute North Trailhead.
The 3-mile hike along the Willamette River is considered easy, though children should be at least 6 years old to participate. The trail will pass through riparian forest restoration areas, mature gallery forests and along open fields.
Participants should bring their own drinking water and wear suitable clothing and shoes based on weather conditions.
For more information: Steve DeGoey, park ranger, 971-239-8331; e-mail to steve.degoey@state.or.us.
Emeritus Society
will meet Tuesday
Paul Allen, a financial aid officer at Western Oregon University, is among the guest speakers scheduled for the Tuesday, Jan. 3, meeting of The Emeritus Society.
The meeting begins at 1:30 p.m. at Gentle House, 855 N. Monmouth Ave., Monmouth. Admission is free and guests are welcome. Refreshments will be served.
Also scheduled to speak are two Emeritus Society scholarship recipients.
Annual memberships in The Emeritus Society are $30.
For more information: Art Tidey, 503-838-1630.
Polk Relay For Life
fundraiser on tap
The American Cancer Society Relay For Life will benefit from a monthly fundraiser at Papa Murphy's Pizza in Dallas coordinated by Team O.W.L. (Oakdale-Whitworth-Lyle).
From 4 to 7 p.m. on the first Tuesday of the month beginning Jan. 3 and continuing through June, Papa Murphy's will donate a percentage of sales that occur from 4 to 7 p.m. to Team O.W.L.
For more information: Mavel Diehm, 503-623-9134.