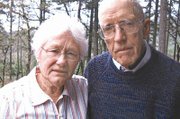 Domes -- 60th
William and Imogene (Emmy) Domes of Rickreall celebrated their 60th wedding anniversary on Feb. 20 by attending church with their children, grandchildren and great-grandchildren. They spent the day sharing their blessings with photos, stories, games and visiting.
William Domes and Emmy Rempel were married on Feb. 18, 1951, at Grace Mennonite Church in Dallas. The Rev. J.J. Regier performed the ceremony. The couple was attended by Keith Shields and Miriam Morris.
The couple has resided in Polk County their entire lives. They were high school sweethearts and both graduated from Perrydale High School.
William is a farmer. Emmy is a homemaker and farmer.
The Domes enjoy working on their farm, family gatherings, and are active in Oak Grove Community Church.
Their family includes Don and Margo Domes of Hillsboro, Jeannie and Bill Schierling of Dallas, Jerry and Kristen Domes of Rickreall, and A.J. and Rex Campbell of Corvallis. The couple has 15 grandchildren and eight great-grandchildren.
More like this story