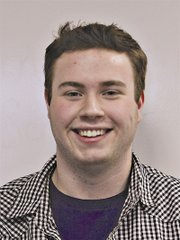 DALLAS -- Three Dallas High School theater students were named finalists and one qualified for state competition during the Oregon Thespians' Northwest Regional Acting Competition on Feb. 5.
The event took place at Sunset High School in Beaverton. Oregon has three regional divisions: Northwest, Northeast and Southern. Each region sends top performers to the state acting competition starting on March 31 in Salem.
Dallas High senior Nick McCleery qualified for state with a solo musical performance of the song "To Excess," written by Michael Kooman and Christopher Dimond. At the state festival, McCleery has a chance to advance to national-level competition.
The two regional finalists from Dallas were Chauncey Baker and Hannah Fawcett. Regional finalists do not move on to state, but are recognized for their performances at the competition.
Baker performed selections from "Salome" by Oscar Wilde and "The Search for Signs of Intelligent Life in the Universe" by Jane Wagner in the solo acting category.
Fawcett performed the song "Disneyland," written by Marvin Hamlisch and Howard Ashman, in the solo musical theater category.
Twenty-seven Dallas High students participated in the event.