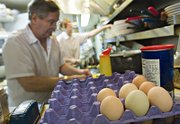 INDEPENDENCE -- The Asiago cheese and spinach scramble on the breakfast menu at Andy's Cafe is a point of pride for owner Andy Scott.
His customers like it, for one. And during much of the year, he doesn't have to travel far for the ingredients.
The spinach can come from local grocers or the farmers market a block away. The eggs come from a friend's hens just outside of town. When in season, the tomatoes are picked from some of the 200 plants in Scott's own garden.
"It's relatively easy to buy local," he said.
And the practice fits with a conscious effort within the last two years by Andy and wife, Denice, to operate their diner at 227 S. Main St. using "green" methods when possible.
That includes allowing customers to collect their food and oil waste, or using take-home packaging made from sugar cane and bioplastics.
"You feel good about it," Scott said. "It almost gets to be a game, to see how much garbage can we keep from getting into our garbage cans."
After the birth of their granddaughter, Scott said that he and his wife started paying more attention to environmental issues and whether or not there were green efficiencies that could be worked into their 13-year-old restaurant.
Some were already happening, Scott said. He harvests herbs and tomatoes from home for the cafe, and gets a significant portion of produce from friends and farmers markets. Beef comes from Setniker Farms just north of Independence.
Still, changes have to be cost effective, Scott said. And he's found a couple that were free.
Two years ago, John Nemececk of Monmouth approached Scott about collecting the dozens of pounds of waste from the soybean and canola oil Scott uses for cooking. Nemecek now comes once a week for the oil, to convert it to biodiesel fuel for his vehicle.
Another regular, Kurt Fertig, stops by on an almost-daily basis for breakfast -- and goes home with a 3-gallon bucket full of food scraps for chickens, sheep, goats and other animals on his nearby farm.
"I was almost afraid to ask at first, for the imposition of can I take your garbage," Fertig said with a laugh. "But it's a win-win situation."
Those free approaches and being more diligent with recycling have cut the amount of garbage being thrown away by nearly half, Scott said.
Finding a cost-effective alternative to the restaurant's paper supplies and take-home packaging was tougher -- until he met Paul Nash, the owner of Corvallis-based EcNow Tech.
Nash's firm manufactures compostable utensils and take-out boxes from sugarcane stalks, vegetable oil, pea starch and other substances. Scott has been a customer since last spring.
"It's very much in line with what we had before, pricewise," he said. "It's a little more expensive, but because we've cut our garbage, that makes up the difference."
Nash said many restaurant businesses, even small ones, are moving past the cost factor of "green choices" because more customers are inquiring about things like where the food comes from or what ends up in a landfill.
"If you can see the bigger picture, that customers like it, it's better for the environment, owners will make the change," Nash said.
Scott said he's begun letting his regulars know about what he and Denice have been doing, and that "the reception has been very strong."
"We try to talk it up when we give them a take-out box," Scott said. "We'll say, `hey, please don't throw this out in the trash with a plastic bag.'"
Nash, who lives in Monmouth, said the interplay between Scott and his customers in getting rid of waste is a promising sign.
"This is the kind of stuff people use to do 50 years ago -- and we got away from it," Nash said.
Fertig said he and his wife frequent Andy's because they like the food. The emphasis on going green, however, is "a big plus," he said.
"If there were two restaurants side-by-side, I'll choose the one doing the environmental stuff," he said. "I think it's great."