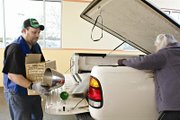 DALLAS -- Goodwill in Dallas has seen a steady stream of cars lining up at its Orchard Drive donation center in the last few weeks, contributing to another record year for the store.
People making end-of-year donations braved chilly wind gusts, brief snow showers and cold rain to wait in line to drop off bags of clothing and other goods last week, Store Manager Kathleen Disney said.
"We've had a 30- to 40-percent increase in the last two weeks of the year," she said.
Dallas' 2010 donations will exceed 1.7 million pounds, a 5 percent increase over last year's donations. That makes two years in a row that Dallas' Goodwill has seen significant growth in the amount of merchandise donated.
"In a year like it has been, that's a lot of generosity from Dallas," Disney said.
Dallas is part of Goodwill's Columbia Willamette region, which was expected to collect 7.5 million pounds of merchandise during the last two weeks of 2010. The charity's Pacific Northwest region was on track to bring in a record 162.5 million pounds in donations on the year.
Roy Debnam of Dallas said he makes several donations to Goodwill every year. On Dec. 29, he dropped off a computer monitor and told donation attendant Brad Parren he would probably be back with more the next day. Debnam was one of 149 people who dropped off donations that day.
Debnam said he donates in support of Goodwill's cause.
"I have a friend whose daughter works for Goodwill who is blind and deaf," he said, noting that the programs provide great assistance to those who need it. "It's a good place."
Disney said 92 cents of every dollar spent when donated merchandise is resold in stores goes to support Goodwill's programs to assist those with disabilities or other barriers to finding jobs.
"Without the generosity and the donations, our programs just wouldn't happen," Disney said.