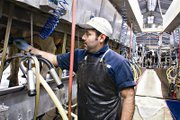 POLK COUNTY -- Dealing with depressed milk prices and rising fuel and feed costs during these past few years have made it hard for dairymen to stay optimistic about the state of their industry.
And even more so when one of their own calls it quits.
Earlier this month, Mallorie's Dairy of Silverton shuttered its operation after 56 years. The company had been one of the state's most prominent dairies.
"You read any dairy publication right now, and you'll see it's (survival) out there," said Louis Kazemier, co-owner of Rickreall Dairy. "It's a sick game of chicken ... I don't know if that's the right way to put it or not.
"But 2011 ... we're not off to a real good start."
Mallorie's closure shouldn't have a significant direct impact on the eight existing dairies in Polk County.
And as a producer-handler distributing its own milk, Mallorie's case differs somewhat from most dairies.
Still, there is some fallout to the industry, local farmers said. It's also a sign of the times.
Pete Kent, executive director of the Oregon Dairy Products Commission, said the state had about 340 dairies five years ago.
The number has shrunk to 280 to date, Kent said.
"Oregon's milk production has remained stable, through efficiencies or consolidations of dairies," he said.
But price consistency hasn't been there, due to high supply and a collapse of the export market during an 18-month period in 2008 and 2009, he said.
Farmers suffered through some of the lowest milk prices in decades then, receiving $13 per hundredweight. A benchmark to cover the cost of production is around $16 now, said Mike Gamroth, dairy specialist for Oregon State University Extension Service.
"We need $18 to stay in business," Kazemier said.
Gamroth said 2010 saw prices grow as high as $15 per hundredweight. They've dwindled since last fall and are expected to be "soft" in January and February, Gamroth said.
The price of corn for feed, meanwhile, has risen dramatically due to ethanol production. Kazemier's dairy milks about 1,600 cows. Feed costs run perhaps $270 a ton, Kazemier said.
"Corn has doubled since October," Kazemier said. "The corn guys are making a fortune."
Mallorie's supplied milk to the Roth's Fresh Market Grocery chain of stores, including one in Independence. That contract will be picked up by Alpenrose Dairy of Portland.
Alpenrose buys its milk from Farmer's Cooperative Creamery in McMinnville -- which most of Polk's dairies belong to.
Still, that doesn't necessarily mean more volume from farmers, as the Co-op can reroute milk that would have been used for other purposes, Gamroth said.
And "it's not going to change my milk price," Kazemier said.
Bernie Faber, owner of Cal-Gon Dairy in West Salem, said the closure sets a precedent for banks.
"What scares me is bankers start looking at this situation and they get scared," he said. "They tighten up the credit lines and that's not good."
It also means the loss of a customer for farm equipment dealers, which other dairies still depend on, Faber said.
Faber said low prices caused low profits and many farmers to borrow against their equity. He himself had to take out a loan "for the first time in many years" in 2009 because of the dairy downturn, and had to renew it in 2010.
"I have two sons in our operation and would like to see a future for them and other young producers," Faber said. "But with the way things are going in the last three years ...."
Kazemier slightly reduced his staff and feed expenses last year, and has presold milk on occasion to alleviate the downturn. He echoed Faber's sentiment.
"If things don't change quick, we're going to see a lot more people doing what Mallorie's did," he said.
Did you know?
* According to the Oregon Agricultural Information Network, the state had 118,000 cows producing 2.7 billion pounds of milk in 2010 -- or $472 million in milk income.
Polk County, which has 6,200 dairy cows, accounts for $22.4 million of that total.