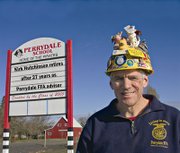 PERRYDALE -- "Learning to Do, Doing to Learn, Earning to Live, Living to Serve."
Those phrases -- the motto of FFA -- have been for almost 27 years the basis of Kirk Hutchinson's teaching at Perrydale High School.
The agricultural teacher and FFA advisor since 1984, he has designed a program of projects and experiences that teach students the meaning of those phrases, particularly the last one: "Living to Serve."
"I believe that community service has an educational value," Hutchinson said.
If the number of awards the Perrydale FFA chapter has won in his tenure is any testament, Hutchinson's work has stayed true to that belief.
Perrydale is the only chapter in the nation to be named a "Model of Innovation" in all three of the award's categories: student development, community development and chapter development. That isn't to mention the many awards it's won in recognition of outstanding community service and, to top it off, a National Superior Chapter Award.
The last one stands out for Hutchinson.
"The reason I'm so proud is that it takes all of the students working together to win that award," he said last week.
As Hutchinson's students and colleagues reflect on his career on the eve of his retirement Feb. 1, it's clear they are proud of him in return.
"He has a great presence," said Perrydale High School Principal Sheila McCartney. "He is a great speaker and leader that can get kids inspired."
McCartney said Hutchinson believes that every student deserves to succeed and that belief drives his efforts to reach as many as he can.
"I've never met someone as dedicated to that ideal," she said.
Perrydale Superintendent Robin Stoutt has worked with Hutchinson for 17 years and watched him constantly change and advance the school's agricultural program. Hutchinson has made connections in the community for help with FFA's projects, notably Food For All, which collected some 215,000 pounds in 2010. Farms, trucking companies and other school districts are involved.
"Kirk is a legacy in our district and a pillar in our community and he will definitely be missed," Stoutt said.
All Perrydale students from seniors down to preschoolers have been part of Hutchinson's FFA projects.
"Everybody in the whole school knows Hutch," McCartney said. "He will have so many kids that will miss him."
Stoutt said it will be strange to be at work and not see "Mr. Perrydale."
"We are not replacing Kirk Hutchinson," she said. "Those are really big shoes to fill."
Emily Crowe and Kim Jaeger, both officers in Perrydale's FFA chapter, can attest to that.
Now well-spoken leaders, the pair both said when they began Hutchinson's classes they were on the shy and quiet side.
"He taught me leadership ... to stand up for what I believe in," Jaeger said.
Crowe said one of her favorite parts of FFA is getting to know people in the community through service projects. That was not true before Hutchinson's classes.
"He pushes you," she said. "You may hate what you are doing, but you realize he is making you grow."
When reflecting on his long career, Hutchinson recalls fondly the big events -- such as Food For All's success or taking students to FFA's National Convention each year to receive honors.
He laughs out loud remembering the mishaps during the chapter's "pass the pig" fundraising events. The idea is to take requests from people to "deliver" a pig to a friend, coworker or family member. The recipient has the choice of keeping the pig -- not a popular option -- or offering a donation to send the oinker to someone else.
"We didn't invent it, but we took it to a pretty good level," he said.
Hutchinson recalls a year that had FFA members chasing a loose pig through the streets of downtown Portland and the time he and a small group of FFA members tried unsuccessfully to "pass the pig" to Nike chief Phil Knight. Instead of being able to deliver the pig to Knight, they were welcomed as suspected eco-terrorists and escorted off Nike's property by a contingent of security guards.
Those events, and many others, will make for remarkable memories. But the moments he says he will miss most are more subtle.
He will miss the times when students realize they are capable of something they didn't think possible or accomplish a task they are truly proud of. Those are the times when Hutchinson knows students -- like Crowe and Jaeger -- have discovered something about themselves that will affect the rest their lives.
"Those are great rewards and I will miss all those tremendous times when learning was at its best for kids," he said.
Say Goodbye
Perrydale School will hold a retirement celebration for longtime agricultural teacher and FFA advisor Kirk Hutchinson on Thursday, Jan. 27, starting at 12:37 p.m.
The party will be in the school's new gym and will be themed "dress like Kirk day," meaning anything blue and gold (FFA colors), silly hats and pig-themed is appropriate.
The public is welcome.
Anyone wishing to speak during the celebration should contact Linda Romey at Perrydale School at 503-623-2040.