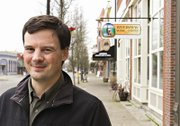 INDEPENDENCE -- When Shawn Irvine was hired by Independence's community development department almost five years ago, there were a few skills officials had been counting on.
Resourcefulness being one of them.
The city has amassed many a grant, some as high as half a million dollars, because of Irvine. Civic projects he's involved in, like cleanups of Ash Creek, always seem to include volunteer help or donations.
"I always felt I was a good connector," Irvine, 34, said. "I have a good skill in ferreting out the opportunities out there."
Irvine will put those talents to work on a larger scale this year. The community development technician has been made head of a recently created economic development department.
The program is a proactive response to the toll the recession has taken on Independence in the past two years, and a chance to reinvigor the local economy with new businesses and jobs, said City Manager David Clyne.
"This has always been a community that's open for business," Clyne said. "This is our opportunity to sharpen that message."
Irvine said Clyne had approached him about the concept late last summer.
"He asked me to put together a proposal for a department, which is basically going to consist of myself," Irvine said. Daunting? A little bit, Irvine said. At the same time, partnerships with Polk Helping Achieve Lifelong Objectives (HALO) and Chemeketa's MERIT Microenterprise program will help ease the burden, he said.
Irvine will create a recruitment program for new commercial and industrial businesses, and a retention initiative for those already here.
First and foremost will be face-to-face meetings with existing business owners to understand their needs and link them directly to other resources if need be, Irvine said.
"It's being able to understand what organizations, businesses and people are out there and how to bring them together," he said.
Tourism is going to be another focus. Irvine said the city has amenities to tout in its forthcoming conference center and the North Ballfield Complex.
"We haven't done much to date in terms of promoting Independence as a destination," he said. "I'll be working with chambers of commerce, Travel Oregon, Travel Salem to try to get us on the map, so to speak."
Other efforts include an online list of local commercial and industrial buildings with detailed information that can be shared with prospective buyers and developers, Clyne said.
The department will also be addressing one of the oft-discussed topics among city leaders -- underutilized buildings and properties.
In the last few years, the city has seen a number of businesses on Main and C streets close shop, leaving vacant storefronts. The Speakeasy on Main Street hasn't had business tenants for almost six years.
"That can't be ignored," Irvine said. "They are very visible and (have been) very visibly empty for a long time."
Clyne said there will be conversations with owners to try and facilitate sales or encourage investment.
"If it means get out in front and market for them, we'll do it," he said. "If it means take a backseat and entice through incentives or enforcement, we'll do that too."
The city of Astoria is working on regulations related to downtown storefronts that are hurting that town's historic district; "We may come to City Council with a similar proposal," Clyne said.
Irvine said his new job won't be entirely different than his old job, just more focused.
"We've done a good job of developing resources," he said. "Now it's a matter of pulling them under one department and actively utilizing them."