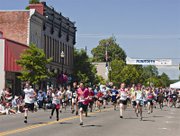 POLK COUNTY -- Western Oregon student Dan Sprinkle ran in his first Monmouth-Independence Fourth of July Mini-Marathon July 4.
Sprinkle didn't want to contend with a bunch of other competitors, so he jumped out front in the 2.6-mile event and hit the finish line first (among runners) with a time of 13 minutes, 7 seconds.
"I just didn't want to get caught behind a big pack of people," said Sprinkle. who runs cross country for the Wolves. "I had to get in some miles today, and the race was right there. I figured I could squeeze it in before class."
Competitors in the race enjoyed near ideal conditions -- bright sunshine, mild temperature and a light breeze.
"I got a little excited," Sprinkle said with a laugh. "I hadn't run this short of a race in a while. I went out pretty fast the first mile or so. I definitely slowed down about two-thirds of the way through."
The Mini-Marathon precedes the Grand Parade. As always, spectators lined the streets all the way from Independence City Hall to Monmouth City Hall.
"It was great," Sprinkle said. "There were people cheering the whole way. In our college races, you only get that at the finish line. People were always waving at you and smiling at you and cheering for you. It's a great way to spend a little time. I even wished a few people a happy Fourth of July."
And, by the way, most classes are canceled on holidays. Are you really going to class on the Fourth of July.
"I think so," Sprinkle said. "I haven't heard otherwise."
Complete results of the Mini-Marathon were unavailable at press time. They will be printed in the Itemizer-Observer as soon as they become available.
Wheelchair athlete Kacey McCallister finished the race in 11:49.
Sprinkle was followed by Clay Stuhr (13:27) and Joe Deardorff (14:03).
Janelle Everetts was the first female finisher in 16:37. She was followed by Lisa Trimble-Schierman (16:38) and Jamie McPherson (16:46).
Top masters finishers were Wes Tigler (16:09) and Denise Goomes (17:04).