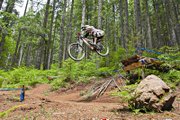 FALLS CITY -- Ed Reilly pedals his dual-suspension mountain bike down a narrow wooden trestle, a mounted helmet camera recording his ride for posterity's sake.
He picks up speed, launches off a 6-foot drop, lands squarely, and coasts onto another ladder bridge.
Reilly and friends are "sessioning" this particular
day on Sunday Stroll, an ironically-named trail that requires skill and just a bit of heart.
"You know when you're 6, you want to go on the big roller coaster and you're too scared?" said Reilly, who lives in Gresham. "This is that coaster ... it's definitely a lot of fun."
Welcome to the Black Rock Mountain Bike Area, a nationally renowned fat-tire playground of ramps, elevated bridges, teeter-totters and "flowy black dirt" located a few miles southwest of Falls City.
The roughly 9-mile network of trails sits on a 500-acre tract of the Oregon Department of Forestry's Gerlinger Experimental Forest.
It exists through a unique partnership between the state and the Black Rock Mountain Bike Association (BRMBA). A volunteer organization, BRMBA has designed, managed and maintained these sanctioned trails for nine years.
The land was once a haven for dirt bikes during the 1980s, until ODF closed it to motorized vehicles. Mountain bikers still flocked here, however, even cutting some primitive trails into Mount Brown -- where most of the riding still occurs.
In 2002, Leo Kowalski, Michael Susee and Jason Vogt -- a trio from the Salem area -- approached ODF about building a sanctioned freeride trail. And the state agreed.
For the uninitiated, free-riding is the more aggressive subset of mountain biking. BRMBA began with a free-ride focus, but has become more inclusive with time, said Rich Bontrager, BRMBA president.
Photo by Pete Strong
Ben Johansen, 12, of Welches, flies down a section of the Flow Cup downhill race course. Johansen was among the youngest competitors in the race June 19, but even younger riders down to 4 have been known to ride the trail complex.
The group dug and routed the first trail there, "Sikter Gnar," in 2002. And in the years that followed, more volunteers have gotten involved in moving tons of dirt and using fallen timber to construct features on steep hillsides. BRMBA holds regular "build days" to maintain the site.
"It wasn't much when we started," said Todd Glasgow, trail manager of Sunday Stroll. "Two little trails that took two minutes to ride down.
"But now, we have a system of four trails that, top to bottom, take 10 minutes to get down."
The downhill network is set up not unlike a ski resort, with trails marked for beginners to experts. Technical sections also include "ride arounds" that give visitors a chance to scout out a stunt beforehand.
"It's for all skill levels," Bontrager said. "We're actually seeing more couples, more families coming out here and riding trails together."
Black Rock is one of just a handful of trail systems sporting technical features in the Pacific Northwest and one of the premier freeriding spots in the United States.
The topography of Mount Brown is such that the trails aren't overly muddy during wet months, Bontrager said. And because it rarely snows at its elevation, people ride it year-round, he added.
Black Rock has been featured in a slew of mountain bike magazines and videos in the last few years. It draws locals and frequent visitors from across the Northwest, California, Canada and beyond. All of that benefits businesses in Falls City, as travelers pass through town en route to the trails.
"The first time I came here, I was a little bit in awe," said Casey Bayless of Woodland, Wash., during a recent visit. "It's peaceful, quiet ... the old growth is really neat to see.
Photo by Pete Strong
Mountain bike enthusiasts, from left, Alan Thompson, Marine Vion and Jenni Henderson watch a racer pass by from an elevated trestle section of the trail system.
"And you can ride and test yourself and your limits, and see what you can do."
The site sees a number of races throughout the year. There are proposals under way to host bike industry demonstration days here, Bontrager said.
In 2010, Black Rock was added to the International Mountain Bike Association's Epic Trail Program. That distinction is given to trails based on the quality of their design, the organization behind projects and cooperation with public agencies.
Bill Baxter of Portland, a longtime mountain biker, has ridden Mammoth Mountain, Calif., Moab, Utah, and other meccas of the sport. He made a pilgrimage to Black Rock in 2010.
"It's absolutely awesome," Baxter said. "I compare all the other places I go to this place ... it doesn't get much better."
Go For A Ride
What:
Black Rock Mountain Bike Area.
Cost:
Free and open to the public year-round.
Directions:
Head from Dallas southwest to Highway 223 and continue for 5 miles. Turn right onto Falls City Road and drive 4 miles into Falls City. Once in Falls City, travel west through downtown and bear right before the bridge onto Mitchell Street. Drive up a short hill, turn left onto a dirt road and follow the river for 3 miles until you reach the Tapawingo Camp sign. Turn right here, cross a bridge and park at an area next to a main gate. Do not drive past the gate, even if it's open.
For more information:
For details about Black Rock or to see schedules for upcoming events and races on the trails, visit the Black Rock Mountain Bike Association's website at www.brmba.org or send an e-mail to Rich Bontrager at richb@brmba.org.