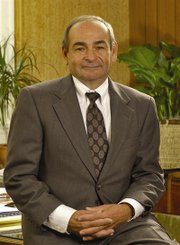 MONMOUTH -- Western Oregon University President John Minahan has announced his intention to step down from his position before the start of fall term in September.
In a letter addressed to alumni, staff and friends of WOU dated Wednesday, July 13, Minahan wrote:
"It is my intention to stand down from the presidency before school starts this fall. The work of the president, when done well, requires long days and nights and a level of physical energy that I no longer seem to have.
"Although my health is not terrible it could be better. In my case at least, the things I did as a young man when I thought I was invincible have caught up to me. I lack the energy to continue non-stop work. I cannot expect the very best of all of you without also demanding the same of myself."
In the letter, Minahan recommends that the Oregon University System appoint an in-house interim president for a two-year period beginning in September.
"My reasoning for an internal appointment has to do with the many uncertainties relating to OUS governance changes that could be in the works during the next two years and the continuing budget issues facing the state," Minahan wrote. "I don't think an outsider could get up to speed fast enough to work well in this difficult environment."
Minahan was appointed Western president in December 2006 after having served as interim president since August 2005.
Minahan was out of the office on vacation and unavailable for comment Thursday.
Read more about this story in the July 20 issue of the Itemizer-Observer.