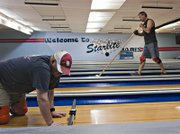 DALLAS -- Bowlers at Starlite Lanes in Dallas soon will be knocking down pins at an unprecedented rate, predicts owner Loren Faxon.
Bowlers for years at Starlite have had to deal with worn wooden approaches and lanes that have been there since the business first opened a half-century ago.
No longer. Last week, Los Angeles-based Murray International replaced the old wooden lanes and approaches with new synthetic surfaces.
"My lanes were 50 years old," Faxon said. "They were wore out. Scores will go up immensely with this new stuff. It's a synthetic overlay. Averages will go up by 10 pins. We'll have 300 games bouncing out of there like there's no tomorrow.
"Now that we're putting in synthetic lanes, we'll no longer have to sand. We'll no longer have to do maintenance. With wood lanes, you've got to sand them every three or four years. Then you've got to put a coat of lacquer on top of that. Then, every six months, you've got to finish them again. We'll no longer have to do any of that."
Another big problem with wooden bowling surfaces is a lack of consistency. Starlite Lanes has 12 lanes, and in the past none of them played quite the same.
"Synthetic is uniform," Faxon said. "Wood has all these different characteristics. Now every lane will play the same. Before, every lane was different. You couldn't throw the same shot on a different lane without getting a different reaction. The grain of the wood affects the direction of the ball."
Faxon said he spent about $65,000 on the project, but notes that it does come with a 30-year guarantee.
"It's going to be here for a long time," he said.