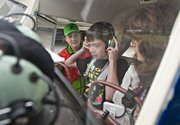 Library in Falls City
sets summer hours
Wagner Community Library in Falls City has changed to summer operating hours effective this week.
Current library hours are: Tuesdays, 1 to 6 p.m.; Wednesdays, Thursdays and Fridays, 1 to 5 p.m.; and Saturdays, 10 a.m. to 1 p.m. The library is closed on Sundays and Mondays.
Wagner Community Library also kicked off its 2011 children's summer reading program, "One World, Many Stories," on Thursday, June 9. The first in a series of children's programs at the library begins Thursday, June 16, at 9:45 p.m. with a visit from "Reptile Man" and his snakes, turtles and lizards.
For more information: 503-787-3521, ext. 319.
'God in America'
viewing scheduled
Christ's Church in Monmouth will show the PBS program "God in America" Wednesday evenings for three weeks beginning today (June 15) and continuing June 22 and June 29 at 6:30 p.m.
The three-part series explores the sweeping history of how religious faith has shaped America. Interweaving documentary footage, historical dramatizations and interviews with religious historians, the program examines the complex interaction between religion and democracy.
Light refreshments will be served. Christ's Church is located at 412 W. Clay St.
For more information: 503-838-1724.
Food preservation
class is Saturday
Polk County OSU Extension Service's Preserving Your Food Safely series begins Saturday, June 18.
The class will be held from 10 a.m. to 1 p.m. in the kitchen at Evangelical Bible Church, 1175 SE Howe St. in Dallas.
Certified OSU Master Food Preserver Odessa Kershner will teach participants to can relishes and chutneys, guided by research-tested, safe recipe sources.
Class cost is $5, payable on the day of the class. Class size is limited and preregistration is required. Those interested in attending should call Odessa at 503-838-6428 by Thursday, June 16. Those with a physical disability requiring special considerations should notify Debra Minar Driscoll at 503-602-2651 by June 16.
Future sessions include a July 16 class on canning pie filling and an Aug. 20 class on canning meats.
Benefit art auction
slated for Saturday
Partnerships in Community Living Inc. will host its 15th annual Summer Solstice Benefit Auction on Saturday, June 18, beginning at 5 p.m.
The event takes place at Eola Hills Wine Cellars, 501 S. Pacific Highway (99W), Rickreall. It will feature silent and oral auctions for a variety of art, gift baskets and more, as well as dinner and wine.
Tickets are $25 each and space is limited. Proceeds from the event benefit adults with developmental disabilities that PCL serves.
For tickets or more information: Kevin Priest, 503-569-6580; Gwen Whelton, 503-932-9590; http://auction.pclpartnership.org.
Firefighters to host
Father's Day meal
Dallas Volunteer Fire Department will host its annual All You Can Eat Father's Day Breakfast on Sunday, June 19.
Pancakes, ham, eggs, coffee and juice will be served from 7 to 11 a.m. at the Dallas Fire Station, 915 SE Shelton St.
Cost is $5 for adults, $3 for children ages 5-12, and kids under 5 years of age eat free. Tickets can be purchased at the door. Proceeds from the event will be used to help restore the first motorized fire truck in Dallas, a 1925 Stutz Bearcat.
For more information: Dallas Fire Station, 503-831-3533.
AARP driver safety
class being offered
A two-day, eight-hour AARP Defensive Driver Safety Class will be offered Wednesday and Thursday, June 22-23, at Capital Manor Retirement Community in West Salem.
The class meets both days from 8 a.m. to noon at 1955 Salem-Dallas Highway NW. There is no on-street practice or final exam.
Cost is $14 per person. A $2 discount will be given to those who present a current AARP membership card.
To register or for more information: 503-362-4101.
M-I parade entries
accepted for event
Registration is now being accepted for the 2011 Monmouth-Independence Rotary Club Fourth of July Grand Parade.
The parade, set for Monday, July 4, assembles for staging beginning at 9 a.m. on the Western Oregon University campus in Monmouth. Float judging is from 10 to 11 a.m., with the parade getting under way at noon. The parade ends at Riverview Park and Amphitheater in Independence.
Cost is $10 per entry and parade entries should be decorated to express the spirit of the holiday.
For more information: Matt Nicassio, 503-838-2641; e-mail to matt.nicassio@oregonfcu.org; http://www.mirotaryclub.org.
More like this story