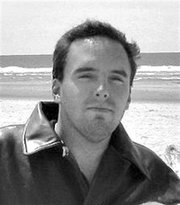 DALLAS -- The body of James R. Porter, the Dallas resident reported missing on Monday, June 20, was found Saturday afternoon, June 25.
At about 3:45 p.m. Saturday, police were called to the Church of Christ on Northeast Kings Valley Highway, where cleaning staff had discovered a body of a man in the basement.
The man was identified as Porter, 32. Police said Porter entered the church by breaking out a ground-level window and ultimately made his way to the basement.
Investigators determined Porter may have been in the basement for at least two days. The staff member who discovered the body told officers it was possible no one from the church had been there since the previous Sunday evening.
An extensive search was launched on Wednesday, June 22, including tracking dogs, a helicopter, and about 50 personnel from the Polk County, Yamhill County and Tillamook County search and rescue teams, as well as the Newberg Fire Department's Dive-Rescue Team. The search was called off on Thursday, June 23.
Porter's death has been determined to be a suicide.
Dallas Police was assisted the Polk County District Attorney's Office and Medical Examiner's Office.