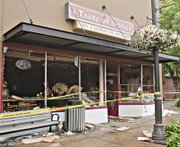 MONMOUTH -- A downtown Monmouth restaurant is in ruins following a two-alarm fire on Monday evening, June 27.
The blaze broke out at the Real Taste of India, 183 Main St. W., at about 10 p.m., officials from Polk County Fire District No. 1 said.
Arriving units discovered heavy smoke coming from the first floor of the restaurant. Fire Chief Jason Cane said it appears the fire started on the ground floor, then climbed through the second floor and eventually vented through the roof.
Polk No. 1 and Dallas Fire Department firefighters were forced to shoot streams of water from the exterior of the building because of fire damage to the roof and ceiling, Cane said.
Two neighboring businesses housed in the complex at the corner of Main Street and Monmouth Avenue, Petals & Vines and Main Street Pub & Eatery, suffered significant water damage.
"It was a hard fire to put out because the roof was collapsing over the origin of the fire," Cane said. "We couldn't get water in."
Nobody was injured during the incident, though employees and patrons were evacuated from Main Street Pub, Polk No. 1 Fire Marshal Jeff Donahue said.
Fire investigators were still trying to determine the cause of the fire and whether the building is still structurally safe.
The fire was brought under control at about 2:30 a.m. Tuesday.
There was major damage to Taste of India, though estimates to it and the other two businesses was unknown as of press time, Donahue said.
The restaurant was co-owned by Balwinder Singh and Mohan Lal, who opened the establishment in January 2010.
The building, erected in 1930, is owned by local real estate developer Bodie Bemrose.
Petals & Vines and Main Street Pub were shuttered on Tuesday morning as passers-by stopped to look at the gutted storefront.
One of those was Ray Stratton, Main Street Pub co-owner. Stratton said he had just left nearby Western Oregon University with a food delivery Monday evening when his employees called to tell him they were being evacuated.
Stratton said he was unaware of the damage to his business, but doubted he would be open for July 4 festivities.
Beyond that, "I'm not sure what this means for us," he said. "My daughter's going to call the insurance company ... we're just going to take it one day at a time."