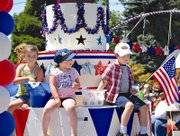 MONMOUTH/INDEPENDENCE -- Most people hate Mondays.
But maybe that doesn't apply when it happens to fall on celebrations spread over two towns that comprise one of the Willamette Valley's biggest Fourth of July events.
Thousands of people are expected to descend upon Monmouth and Independence July 4 -- and the three days prior -- for food, fireworks and fun during Independence Days and Monmouth's Fourth of July Festival.
The celebrations in the sister cities will run July 1-4.
"It's pure Americana," said Marilyn Morton, an Independence Days coordinator. "Plus, you walk through either of them and all of the sudden you have license to eat what you want ... and there are fireworks!"
Leaders in Independence dropped the long-used "Western Days" title from its festival last year, while counterparts in Monmouth rebooted their annual Fourth of July party.
Each offers a different flavor. The Monmouth celebration will feature an assortment of live music and dance performances, art and children's activities and a beer and wine garden at Main Street Park.
The response to the changes in Monmouth in 2010 were favorable ones, said Phyllis Bolman, a vendor coordinator.
"They said it was hometown Monmouth the way it used to be, like it was recapturing some of the energy it used to have," Bolman said.
Independence Days will start with a concert and movie in Riverview Park on July 1. A carnival and midway will be located at the bottom of the park, as will scores of food vendors. Live music will take place in the amphitheater.
Morton said people -- including her -- still occasionally trip over the name change in Independence. But that didn't stop roughly 20,000 people from flocking to the amphitheater for the big fireworks display on July 4.
The two cities will collectively form the stage, as usual, for the Fourth of July Grand Parade on July 4, which snakes from Western Oregon University, then east on Highway 51 to downtown Independence.
Morton said she enjoys how the two celebrations compliment instead of compete with one another.
"It's getting to be much easier coordinating events between the two cities," she said. "And in doing so, we're making it so there are more and different things for everyone to enjoy."