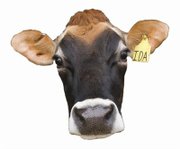 As accustomed as Oregonians are to rain, being cooped up for four months because of cold and wet weather means restlessness is at its peak by the time March arrives, Jon Bansen said.
That's especially true for his 165 Jersey cows.
Rolling green pastures on his 550-acre farm are almost ready for grazing -- and his anxious herd knows it.
"I have to be careful this time of season," Bansen said as he strolled through his feed alley one day last week, watching cattle dine on baleage.
Photo by Pete Strong
Jon (pictured) and Juli Bansen run Double J Jerseys as part of the 1,600-farm Organic Valley co-op. Methods like rotational grazing and holistic health care create a product and environment he thinks his grandfather would be proud of, he said.
"If I walk out into the field in front of the barn, they think I'm coming to let them out and they'll scream at me, like `is it time, are we going out yet?'"
Soggy conditions stress cows and make land vulnerable to stomping hooves; as such, Bansen's cows wait out the winter under cover.
"Last year, we turned them out on March 18," he continued, "so we're bearing down on it."
Healthy grass fields and cows being able to graze there whenever Mother Nature permits is what Bansen views as the key to his organic dairy, Double J Jerseys.
And the third-generation farmer describes starting the first "dance" from the barn and out to pasture as his favorite day of the year.
"When he knows it's warm enough and the grass long enough, it's a party when those gates come open," said Juli Bansen, Jon's wife.
---
The premise of an organic farm carries a somewhat new age connotation to it for many. Basic tenets include eschewing pesticides on fields and shunning growth-hormone treatment to increase food production and using holistic health care on animals.
Jon Bansen looks at it as a "what's-old-is-new-again" proposition.
"What I'm doing was the norm when my grandpa farmed 60 years ago," he said. "It's how it was done for all of those years man and cow coexisted before the industrial revolution."
Bansen is an organic dairyman and a regional leader for Organic Valley, a national milk cooperative. He and Juli have operated their picturesque farm south of Monmouth since 1991. Double J Jerseys received its organic certification in 2000.
The operation is based on grazing cows -- a Bansen family tradition -- instead of employing feedlots that use higher amounts of grain supplements.
Bansen's cows graze on an intensive rotational basis, with the herd moving from one nine-acre paddock of fresh grass to another every 12 hours. Manure left behind fertilizes the field.
The farm employs a number of natural treatments for cattle, such as mint oil as a salve on udders for mastitis. There are 120 birdhouses scattered around the property to accommodate swallows that feed on flies and other winged pests.
Photo by Pete Strong
Ivan Munoz pours new milk from its collection jug into a bucket, from which the milk will be sent through a heat excahnger into a storage and cooling tank.
The Bansens also strive to remove stresses on the cows, avoiding overcrowding in barns, or giving them "vacations" from milking after they've had calves.
"The organic process is really more about working in harmony with nature instead of trying to get nature to do what you want it to," Bansen said. "I'm just letting a cow be a cow."
Bansen was still using some conventional dairy practices when Organic Valley representatives asked him in the late 1990s to become a co-op member. It took three years to make the switch.
"My grandfather did fine in the dairy business and he didn't have most of the modern tools," Bansen said. "I thought if he could figure out how to do it without them, so could I."
Organic farming has grown considerably in the last decade.
Organic Valley now has 1,600 member farmers compared to 200 when Bansen joined, he said.
The number of certified organic dairy cows in Oregon rose from 16,600 in 2005 to 31,400 in 2009, according to an organic agriculture report by Washington State University last year.
That stems from a public appetite for organic milk, which costs more than non-organic counterparts but is considered of higher quality.
A growing desire by consumers to know how their food is made is another factor, Bansen said. As such, he often speaks at events related to organic and sustainable farming.
"Part of being a farmer is letting people know there are differences to how food is produced," he said.
--
In 2009, he even volunteered his farm as part of a multistate study by three major universities on the impact that organic dairy management practices have on incidences of disease at an operation and how much milk is produced.
It may only prove what the Bansens already know, said Juli, who's in charge of calf raising. Since switching to an organic farm, "we hardly ever have sick animals."
The less stress a cow endures, the better quality milk they produce, Jon Bansen said. The longer they live, the more they can work, which also cuts down on the need to cull cows.
"We rely on cows for quality food to eat, they rely on us for care," he said. "It's beholden me to give them the best care possible."
Bansen's star milker -- and favorite cow -- is Rosie, now 14 years old. She's not going anywhere when she retires, he noted, vowing she'll live out the rest of her days on the farm.
"We'll see how old a cow can get because Rosie is going to be given that opportunity," he said.