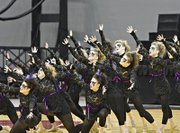 PORTLAND -- Dallas' Dragon Fire Dance Team saved its best for last March 16-17 in the 2011 OSAA Dance and Drill Championships at the Memorial Coliseum in Portland.
Dallas, which dedicated its routine to fallen Dallas wrestler Charley Engelfried, finished seventh of 14 teams in the Class 6A-5A Large School Division with a season-best score of 76.9 points.
"Our goal was to improve on our scores from the previous years and to place higher than we did before," said Dallas coach Rayanne Genera. "It went well. The girls danced harder than they've ever danced before."
Dallas danced in five competitions prior to the state competition and then performed twice in Portland. The team's final score was based on the average score of those two performances.
Formulating a dance routine to symbolize the sudden and tragic loss of a treasured friend was not an easy or simple task. The Drag Fire, though, was able to make it work.
"The girls pulled it together, picked the routine, and it went from there," Genera said. "They used the emotion they experienced from losing a close friend and put it out on the dance floor."
Twenty girls danced with the team and captains were Sami Prouty, Spencer Davis, Jessica Jones and Margi Anderson. Genera's co-coach is Kathy Sivers.