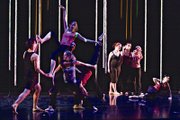 MONMOUTH -- As a dancer, Sara McIntyre is accustomed to being in front of, thriving and feeding off an audience.
This Thursday, however, the outgoing Western Oregon University junior said she'll probably be nervously peeking out from behind the curtains of Rice Auditorium.
Western's Spring Dance Concert is this week. McIntyre is one of a handful of students who will be choreographing their own pieces.
And her "Asylum Beat," which promises quirky hip-hop and African dance steps to equally offbeat music, is something she's been poring over for months.
"It's a really intimate experience to create something and put it on stage for the world to judge," McIntyre said. "I've got confidence in my dancers, but it is my choreography ... I'm nervous about that aspect."
Sharon Oberst, WOU dance professor and a choreographer for the show, said the jitters are understandable. The concert is the culmination of more than a year's worth of work for its five student directors.
"It's almost fun to see," Oberst said of the panic, laughing.
Western's Spring Dance Concert takes place May 5-7. Audience members will experience styles ranging from contemporary ballet to East Indian dance. The show will also feature a production by Monmouth's renowned Rainbow Dance Theatre.
But the students are the foundation, as the entire cast is made up of WOU dance majors and minors. Because there's a paying audience, there's always pressure -- and it's usually all for not, Oberst said.
"They wouldn't have gotten to this point if faculty had reservations about the quality of their work," she said. "They press themselves."
The concert was founded in 1976, the year Western erected its then new Rice Auditorium, by PE professor Jamie Akin. This was at a time when the university had only a collection of introductory dance classes.
But it grew in scope after a dance minor was established in 1980, and then again after WOU created a dance degree in 2000. There are 40 dance majors and 50 minors today.
Oberst, a faculty member since 1987, said she views the concert as a critical training ground for would-be dance professionals.
To direct their own piece for the concert, a student must complete more than a year of stringent upper-level choreography coursework and have their concept approved by a panel of faculty and peers. They must then audition dancers and run rehearsals.
WOU also brings in special guest artists who handpick student dancers for concert pieces of their own design, and give them about a week to learn their steps.
"For those who successfully complete the concert, they've done everything they would need to as a working professional to perform and run their own concert," Oberst said.
"And many of them have," she continued, noting she knows of WOU graduates doing choreography with companies in Chicago, Los Angeles and Portland.
Jessie Hargrove, a senior from Redmond, is choreographing "Rouse," which begins with a single, purposefully awkward dancer, and transitions to an upbeat hip-hop routine.
Hargrove said pieces tend to tell stories and hers harkens to her background, coming from a home-school environment to a university where she's matured and explored as a performer.
"The dance is my baby, but I'm ready to let it go," she said. "You give it to the dancer."
Let's Dance
What:
Western Oregon University's Spring Dance Concert.
When:
Thursday, May 5; Friday, May 6; and Saturday, May 7. All performances begin at 7:30 p.m.
Where:
Rice Auditorium, Western Oregon University, 345 N. Monmouth Ave., Monmouth.
Admission:
General, $12; seniors, $10; students, $7.
Of note:
Directed by Deborah Jones, the concert includes choreography by dance faculty, five student choreographers and guest artist Maurice Watson of Los Angeles. There will also be n appearance by Darryl Thomas and his Rainbow Dance Theatre.
Watson is a contemporary choreographer and teacher who has performed with some of the finest African-American dance companies in the country, including the Cleo Parker Robinson Dance Ensemble and Dayton Contemporary Dance Company.
For tickets and more information:
WOU Box Office, 503-838-8462.