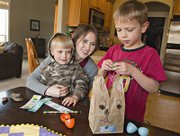 DALLAS -- Most mothers will be opening cards and gifts, enjoying brunches that they didn't have to cook and savoring time, perhaps even quiet time, with their families this Mother's Day.
For Dallas resident Melissa Jones, this Sunday will include something extra.
Jones, 34, has been named Oregon's Young Mother of the Year.
The honor is given to two mothers in Oregon each year. The Oregon Mother of the Year goes to a mother with children older than 18, while Young Mother of the Year is given to a mother with children younger than 18.
Winners are selected by the Oregon Association of American Mothers, a division of the national organization American Mothers Inc.
Jones was presented the honor on April 16 at the Oregon Association of American Mothers 2011 Convention. She was nominated by Monmouth resident Goldie Burton, a former Oregon Mother of the Year in 2006.
Though Jones calls herself a stay-at-home mom, the title doesn't really fit. Jones is incredibly active in her childrens' schools, in youth programs at her family's church, The Church of Jesus Christ of Latter-day Saints, and on weekends with "soccer Saturdays."
Having five children -- Emmalee, 12; Jacob, 10; Caleb, 9; Isaac, 6; and Seth, 4 -- Jones is often out and about.
Jones said when she was pregnant with Emmalee, she had a choice to continue her education -- she has a degree in health education from Western Oregon University -- or raise her children full time.
"I made the choice to stay at home and have never regretted that decision," Jones said.
Her involvement in her childrens' activities and schools is one of the reasons Jones was named mother of the year. In keeping with her active parenting philosophy, she sees the designation as an opportunity.
"I consider myself more of a `spokesmom,' speaking out for mothers and telling people how great they are," Jones said.
American Mothers is an interfaith, nonpolitical organization recognizing the contributions mothers make to the success of their children and society. Its stated purpose is to "strengthen the moral and spiritual foundation of the family and home."
Burton said honorees appear in parades, have speaking engagements and choose a service project to complete throughout the year to support the cause of the organization and help improve their communities.
Jones said one of her goals as a "spokesmom" is to help mothers realize how important their contribution to their families is. One way Jones is committed to doing that is promoting the American Mothers fifth-grade essay contest. The contest has fifth-graders write about what their mothers mean to them.
"Mothers do things for their children, but rarely do they hear that their children are noticing," she said.
Jones' husband, John, said his wife has always been supportive of her children and of other mothers.
"I think being a mother is always her first priority," he said. "She's very loving and nurturing. She is also a good advocate for other women and good at encouraging others, which I think is an important part of this award."
Jones said she finds joy in spending the everyday moments with her children, such as a recent quiet morning with two of her children.
Seth, her youngest, was playing outside while Jones was waiting for her second youngest son to come home from school.
"Mommy, I found a flower for you!" Seth beamed as he bounded through the door from the backyard to the kitchen. A small flower -- and its roots -- dangled from his hands.
Jones smiled and told Seth to put it back in the ground so it could grow even bigger. A short while later, Seth's older brother, Isaac, came home from school.
She beamed when Isaac showed her the treats in the Easter Bunny-shaped bag he brought home from school and Seth's collection of rocks he gathered in the backyard.
"I'm grateful for my children," Jones said. "They are good kids. They are a joy to raise and be friends with. Sometimes it can be loud and crazy in here, but they are a lot of fun.
"For me, that's enough," she said.