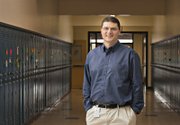 DALLAS -- Steve Spencer, who was selected last week as the new principal at Dallas High, will be starting a new job in a familiar place next school year.
"I actually started (my career) at Dallas High School," said Spencer, who previously was a science teacher and assistant principal at DHS. "I loved the building and loved the age group."
Spencer will finish the 2010-11 school year as LaCreole Middle School principal, the post he has held for the last five years, but has already begun his transition to leading the high school.
He said getting an early start will give him time to get to know the high school staff and listen to their concerns before the beginning of the 2011-12 school year.
In the short term, he said he will be learning about the educational and athletic programs at the high school and spending the summer formulating a five-year plan for DHS.
Moving from the middle school to the high school presents new challenges, especially when school funding is in decline and the high school is facing program cuts.
"The biggest transition will be in the budget reductions and concerns in the community," Spencer said.
He said he is ready to respond to concerns people may have about the high school.
"I look at it as another way to make an impact on my community," Spencer said.
The district conducted an internal search for a new principal, having administrators from within the district interview for the job.
Dallas School District Superintendent Christy Perry worked with a selection committee to best match the skills the candidates offered to the needs at the high school.
Perry said Spencer's experience leading LaCreole, his understanding of the district's professional learning communities program, and ability to assist staff members and listen to community concerns made him the best candidate to lead Dallas High.
"He's a great fit," Perry said. "I'm excited about the leadership that he has demonstrated within his school and within the district. The high school is getting exactly what it needs."
Spencer replaces Keith Ussery, who resigned effective Dec. 17 to take a position with the Willamette Education Service District. Scott McLeod has since served as interim principal at DHS.
While excited to take on a new role, Spencer said it will be difficult to say goodbye to LaCreole.
"I thoroughly love it here, so it will be sad to move," Spencer said. "But I look forward to the challenges it brings."
Perry said she will announce soon who will fill the vacant LaCreole principal position.