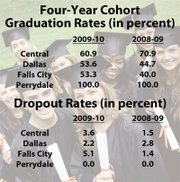 POLK COUNTY -- Graduation and dropout rates among Oregon high school students in 2009-10 remained essentially unchanged from the prior year.
At most Polk County high schools, graduation rates were under the state average of 66.4 percent. Central High saw a significant drop of nearly 10 percent.
Those were among the results included in reports issued by the Oregon Department of Education last week.
"One-third of Oregon high school seniors did not graduate on time last year," said Susan Castillo, state schools superintendent. "We must see change. We simply can't afford for one third of our seniors to be unprepared for their futures."
This is ODE's second year using the current graduation rate report system, which examines the percentage of graduates among a cohort of students who entered high school in 2006-07.
The method determines which of the students achieved a regular high school diploma within four years. The state's 2008-09 graduation average was 66.2 percent.
"We are asking more of our students, raising the bar to ensure they are prepared for college and career," Castillo said. "But we also need to do more to support our struggling learners. That is the only way we will see real change in our graduation rates."
Central High showed the most dramatic change in graduation rates between 2008-09 and 2009-10, falling from 70.9 percent to 60.3 percent.
"I'm not sure how to explain it," said Central High Principal Sylvia Warren. "Kids cycle through and some year's classes are different than others. You don't know whether there's an economic situation affecting them or something else."
Warren said she found it curious that while graduation rates have fallen, the high school showed gains on the state's report card rating for 2009-10, going from a "needs improvement designation" to "satisfactory."
Measures put into place at Central during the last two years may help. This year, the high school has allowed credit-deficient students to schedule online classes during open periods to make up coursework they're lacking, Warren said.
Dallas and Falls City high schools showed rate improvements, though they're still below the state average. Perrydale had a 100 percent graduation rate.
Dallas High's seemingly low rate stems from a large number of its students being enrolled in a five-year program in which they earn their diploma and complete a year's worth of college coursework.
The state issued dropout statistics, as well. Oregon defines a dropout as a student who withdrew from school and did not graduate or transfer to another school.
The state average was 3.4 percent in 2009-10, the same as the prior year. Central and Falls City exceeded that rate, Dallas was below it at 2.2 percent.
"We're pleased with that," said Cory Bradshaw, director of instructional services for Dallas School District. "It's always hovered around 2 percent."
Dropout percentages in subgroups, such as Hispanic, English language learners and economically disadvantaged students, fell slightly from 2008-09. Rates increased for students with disabilities, according to the report.