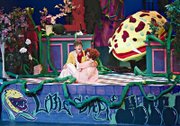 INDEPENDENCE -- Central High theater director Jeff Witt said he's resisted calls to do "Little Shop of Horrors" during the past few years, mostly because of the constraints that accompany it.
The right vocal talent to pull off the leads, money, proper facilities ... and how to tackle Audrey II.
That, of course, is the giant carnivorous plant and star of the 1960 musical and 1986 film of the same name.
"It's a huge prop show and a technical nightmare," Witt said. "I've seen productions where the plant doesn't turn out right and it's so integral.
"If it isn't impressive enough, the show falls flat."
A skilled cast and the space afforded by Central High's new performing arts auditorium, however, convinced Witt to greenlight "Little Shop of Horrors" as the spring finale to the school's theater season.
A two-week run of the dark comedy begins on Thursday, May 12.
"It's a fun show," Witt said. "It's campy, fun and everyone knows and loves it, or hates to love ... it's a guilty pleasure."
For the uninitiated, "Little Shop" is the story of florist Seymour Krelborn, who raises a plant that speaks, feeds on human blood and grows to an enormous size as it plots to take over the world.
Rather than attempt the tricky task of building Audrey II, Central's theater department rented existing props for $700 from Sprague High School.
The set of four plants was originally crafted at Mt. Hood Community College. The full grown Audrey II stands about 8 feet high with vines that cover much of the stage.
"To make an operable plant would have cost $2,000," Witt said. "And the price to actually rent the plant from other companies ranges from $1,500 to $4,500."
Witt also noted that Central High's old auditorium didn't have the room or the proper lighting -- side and up-lighting are needed to create shadows for certain scenes -- to pull off "Little Shop."
The production features a cast of 13, five musicians and 11 crew members. Senior Bjorn Olsen portrays hapless Seymour and junior Grace Peets stars as the love of his life, Audrey. Barkin Sarp and Adam Dutton are the voice and puppeteer, respectively, of Audrey II.
The show features a large set and a plethora of costumes designed by Susan Brewster and based off the 1960s Barbie Doll fashion line.
Katie Ayers, a senior, is part of the doo-wop trio that acts as the play's Greek chorus. Ayers said the show is a change of pace from other productions at Central High this year.
"We've been asking for 'Little Shop' for a while," Ayers said. "It's so different from what we've normally done. It's campy, slapstick and funny."
Showtime!
What:
Central High School theater department's "Little Shop of Horrors."
When:
May 12-14 and May 19-21. All performances begin at 7 p.m.
Where:
Central High School auditorium, 1530 Monmouth St., Independence.
Admission:
Cost is $8 for adults and $5 for students 17 and younger.
Of note:
A special production will be held today (Wednesday, May 11) at 7 p.m. for senior citizens. Admission is free.
For tickets or more information:
503-838-0480.