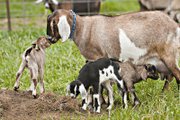 DALLAS -- Spring 2011 has brought a number of changes at Fairview Farm Dairy, and it isn't just this year's adorable batch of baby goats.
Terry and Laurie Carlson's "accidental" venture that started producing aged goats' milk cheeses about two years ago now is a certified organic dairy, the second goat dairy in the state to earn the certification.
Terry Carlson said running an organic farm was the couple's goal from the beginning, though it took some time to earn the title.
"We pretty much followed the organic guidelines that we knew of," he said. "It actually took us five years to make it to our goal."
The Carlson's moved to the Willamette Valley in 2006 with growing organic berries in mind. Watching the Carlsons with their herd of "kids" -- and moms -- it's easy to see how they strayed from their intentions.
Photo by Pete Strong
Laurie Carlson stirs a batch of curds that will become feta cheese in a vat pasteurizer in the creamery of Fairview Farm Dairy in Dallas. Feta is just one of the varieties of cheeses the dairy has been producing, which also include chevre and yogurt cheese made with organic marionberries.
Terry Carlson disappears into a barn on the 6-acre property. Seconds later a little bleat, and then another, and another is heard from inside the red barn. Seconds later, Terry emerges from the barn, two tan colored, four-day-old goats under his arms.
He gently puts them down in a small pasture and goes back into the barn to fetch the third brother of the trio -- this one black and white -- and mom for some fresh air.
The baby's are all legs and energy. They immediately begin to play king-of-the-mole-hill on a small pile of dirt in the pen.
"It just makes you want to keep them all," Laurie Carlson said in the tone of a proud parent.
Luckily, the Carlsons won't have to sell all of this year's kids. They are keeping 19 of the females to incorporate in the milking herd for next year, increasing their numbers to 50 goats.
Each goat on Fairview Farm has a name, an acknowledgment of their distinct personalities and features.
All are treated with love. The farm is Animal Welfare Institute approved for its treatment of the goats, which are allowed to roam pastures, one of which includes "goat mountain" a gigantic pile of dirt in which the does play out their natural "queen of the hill" dominance behaviors.
Photo by Pete Strong
Rounds of Cascadia cheese cure in the creamery at Fairview Farm Dairy in Dallas. These blocks are destined for sale either at farmers markets, the dairy's self-serve farm stand, or for distribution to restaurants and delis in Portland.
Listening to Terry Carlson talk to the goats, it sounds like he is trying to corral 7-year-olds at a birthday party, not goats at milking time.
"Blessing!" he hollers while standing on the ramp leading from the goats' pen to the milking parlor. "Come on now. Blessing!"
Finally, Blessing, a milk chocolate and black goat, trots up the ramp and into the parlor. She knows the drill and saunters to the end of the line of milking stations, sticks her head through the one-way gate that locks behind her to keep her from wandering away, and begins munching on a waiting snack. Seven more goats follow her. Blessing's sister lines up beside her. They where having a minor dispute in the pen before milking. It continued in the parlor.
"They're sisters," Terry shrugs, commenting on Blessing's unsuccessful attempts to bite at her sister's ears. "They've been together their entire life."
Milking takes only about 10 minutes as the goats happily munch away on their treats. Carlson puts the first group out into the pen and calls in the next group.
"Nubians! Nubians!" he calls, getting a slow response. "Nubians! Nubians!" he yells again as goats begin to make their way down from goat mountain.
Photo by Pete Strong
Terry Carlson guides the last of a group of Nubian goats into the milking parlor at Fairview Farm Dairy. The goats' conditioning to the process and their intelligence make rounding up a group of eight for milking quick work.
"You're not a Nubian," Carlson said, patting away a stray Alpine answering his call.
With eight Nubians lined up, Carlson opens the door to the parlor.
Following the same process with each group, Carlson
gets about 34 to 36 gallons of milk each day from the herd.
That milk, combined with other organic ingredients and herbs, eventually is made into raw milk cheeses under the names Cascadia, Cynthian and Carried Away. Those aged cheeses have developed quite a following at farmers markets and the farm's "honor system" farm stand.
With the recent addition of a pasteurizer, the farm has added several products to its list of offerings, including frozen yogurt, chevre, feta and yogurt cheese, a thick, creamy concoction, similar to sour cream.
Still fairly new to the cheesemaking process, Laurie Carlson said the journey from buying five goats to building a dairy to producing organic milk has been an experience.
"It's been fun to learn," she said.
Say (goat) cheese!
What:
Fairview Farm Dairy.
Where:
2340 SW Fairview Ave., Dallas.
Of note:
Products are sold at the farm. Cheeses are also sold at Roth's Fresh Market stores in Salem, at Salem's Wednesday Farmers Market, the Beaverton and Montavilla farmers markets in the Portland area, and New Seasons stores in Portland.
For more information:
503-623-4744; www.fairviewdairy.com.