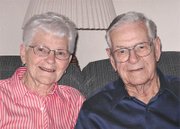 Quiring -- 60th
Gus and Jane Quiring of Rickreall will celebrate their 60th wedding anniversary Sunday, May 22, with an open house hosted by their family from 2 to 4:30 p.m. at Evangelical Bible Church in Dallas.
Gus Quiring and Jane Friesen were married on June 8, 1951, at Evangelical Bible Church. Carl Wakkerbarth performed the ceremony. The couple was attended by Elmer Quiring and Birde Wakkerbarth.
The couple has resided in Rickreall throughout their 60 years of marriage.
Gus retired in 1989 as a farmer. Jane is a homemaker and retired school bus driver.
Their family includes Ron and Sandra Quiring of Rickreall, Ken and Ruth Quiring of Independence, and the late Bob Quiring. The couple has four grandchildren.
More like this story