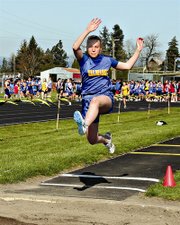 MONMOUTH/INDEPENDENCE -- Organizers and parent volunteers who have kept sports at Talmadge Middle School alive for the past two years have already begun planning to ensure the games go on in 2011-12.
There will be obstacles, however, in the form of funding cuts and trying to find a home base, said Stacy Olson, a Central Youth Sports (CYS) coordinator.
CYS is a nonprofit organization that has managed Talmadge's athletic program since 2009 after Central School District eliminated coaching and other middle school athletic expenses from its budget.
"Our plan right now is to offer the same amount of sports in 2011-12 as we did this year," Olson said. "We all agree that kids need to be doing something outside of school.
"How long we can keep doing this, I don't know," she added. "It is kind of a Band-Aid ... ideally, the economy recovers and the program can go back to the school."
CYS foots the bill for equipment, referee and registration fees. It's also coordinated volunteer coaches from the community.
The district and CYS had been operating in a partnership this past year, with the district providing bus transportation -- worth about $8,000 -- to and from games.
That amount was cut for 2011-12 and means that CYS will have to come up with a way to provide busing for kids, Olson said.
"Buses are the best way to transport. What we don't want is parents loading up kids in vans," she said. "We can't carry the responsibility of that and the liability that puts us in."
CYS will ramp up fundraising through bottle drivers, car washes, barbecues and bumper stickers. CYS volunteers will start researching grants and are planning a raffle. There's also been some discussion about raising participation fees.
"We would like not to do that this year," she said. "The district in the past has used money for scholarships to help some of the low-income kids."
The district will also investigate whether CYS is eligible to receive money from existing grants for after-school programs, Olson said.
The other dilemma is a home office. CYS had been using a small building owned by the city of Monmouth for the past few years, free of charge. Olson said CYS doesn't have the finances to cover rent and utilities.
CYS had a tentative agreement with district officials to use one of the modular buildings that sit outside Central High as an office, Olson said. Those plans have been scrapped now that the district plans to sell those facilities.
"We went into that knowing it could be a temporary location," Olson said. "We don't feel like it's an emergency, though, or like we're getting kicked out ... we'll figure it out."
Talmadge Principal Perry LaBounty said he is hoping to relocate the group on his campus.
"It's been a great collaboration for us," LaBounty said. "If we could find a space in this building, that would be good for our community and our students."
Timm Cable of Monmouth has two kids involved in CYS sports, one of them at Talmadge. School athletics and other activities are critical for a child's development, he said.
"I know we are at a point where there aren't very many extracurriculars that you can avoid cutting," he said. "But I don't like it ... sports are important for our children."
You Can Help
* Central Youth Sports is always looking for volunteer fundraisers or coaches. Local residents are encouraged to attend a CYS fall sports meeting Thursday, June 2, at 3:30 p.m. at the current CYS office at 169 S. Broad St., Monmouth. For more information: Stacy Olson, olson1701@msn.com.