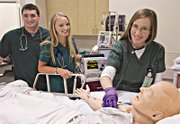 MONMOUTH -- To say life has been busy these past three years might be an understatement for Lisa Boeder.
Boeder, a Corvallis resident, was accepted into the Oregon Health & Science University School of Nursing at Western Oregon University in 2008.
And it's taken strategy to juggle epidemiology and pharmacology assignments, clinical work at a progressive care unit at Good Samaritan Regional Medical Center in Corvallis, a part-time job and raising a son.
"It's been full immersion," Boeder said, adding with a laugh, "I can't sleep more than five hours anymore."
There's a light at the end of this tunnel, though. In a few days, she'll be a nurse.
Boeder is one of 26 men and women comprising the inaugural crop of graduates from OHSU's satellite campus in Monmouth, which was established in 2008. The students will don caps and gowns at a Portland ceremony on Saturday, with each receiving a bachelor's degree in nursing and a registered nursing license.
"It's a celebration time, wiping your brow and saying `I'm glad I'm done with that,'" said Jeremiah Johnson of Lebanon. "But it's also time to put everything into action and get a job ... and there's some anxiety there."
Bret Lyman, OHSU-Monmouth administrative director, said it's a new chapter for students. It's also a milestone for the local program, which now has 89 students, has expanded from three to 12 faculty members, and sees more applicants every year.
"We had 207 qualified applicants for 32 seats in 2010-11," Lyman said.
The class of 2011 is a mix of different backgrounds and ages, Lyman said. Some have jumped directly into nursing after graduating from high school.
Julia Thomas of Monmouth said her family's involvement in international outreach ministries during her childhood inspired her to want to become a nurse. Thomas lived in Romania for seven years and traveled back and forth to places like Mozambique and Albania.
"I saw some of the poverty people were living in and saw one of the greatest needs was medical intervention," said Thomas, 23, who will attend graduate school at OHSU to become a nurse practitioner.
The path to a nursing career was less linear for students like Johnson, who worked as a horse saddle maker until he decided he needed a job with more financial stability.
"I'm enjoying it, the people aspect and the physiology of the human body," Johnson said.
A Louisiana native, Joel Dupuis of Independence joined the Navy in 2001 to become a salvage diver, but ultimately entered the hospital corps. Dupuis was deployed with combat units to Iraq and went on humanitarian missions in Liberia and in his home state following Hurricane Katrina.
Talks with nurses opened his eyes to what the profession entailed, Dupuis said.
"I hadn't realized how much they do as far as assessment," said Dupuis, who wants to specialize in anesthesia administration. "They're the eyes and ears on the ground for doctors."
The recession had taken a toll on the job market for nursing, with much competition for openings, Lyman said.
But there's been an uptick in demand, particularly for nurses who are baccalaureate trained and for advanced practice nurses, Lyman said.
"Soon there will be 30 million plus people in the nation with access to health care that didn't have it before," he said. "And our nurses will be challenged to find new ways and roles to meet those needs."
Boeder, 48, has spent the past 20 years as a research assistant, technician and mentor in different science departments at Oregon State University.
She considered nursing growing up, but deemed it "just another woman's job" during her first stint in college.
"But I've really found I love the relationship working with people," she said. "You feel very honored participating in the poignancy of end-of-life care or those times when people get that second opportunity, that's the richest part."