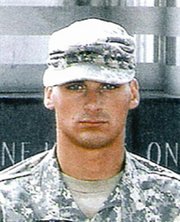 FORT CARSON, Colo. -- A dog park at a Colorado Army post has been named in honor of a soldier from Dallas and his military dog who died in the line of duty in Iraq, according to a story from the Associated Press.
Cpl. Kory Wiens and his Labrador retriever, Cooper, were remembered during a ceremony at Fort Carson just outside Colorado Springs on Friday, Oct. 28.
Wiens, 20, and Cooper, 3, were killed on July 6, 2007, by a roadside bomb explosion in the town of Muhammad Sath in Iraq.
They were part of the 94th Mine Dog Detachment, 5th Engineer Battalion, 1st Engineer Brigade out of Fort Leonard Wood, Mo.
They perished while undertaking their normal routine: rooting out TNT, detonation cords, smokeless powder, mortars and other weapons.
Their ashes are buried together in Dallas, Wiens' hometown.
According to the AP story, a Fort Carson spokesman said Wiens had no formal tie to the post but officials there wanted to honor his memory.