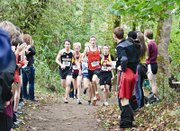 ALBANY -- The Dallas cross country team will be sending two runners to the Class 5A state cross country championships on Saturday, Nov. 5, at Lane Community College in Eugene.
Dragon runners Mary Kate McGuire, a junior, and Alex Bird, a senior, both placed in the top five at the Mid-Willamette Conference District Championships on Saturday, Oct. 29, to qualify for state competition.
Bird placed fourth in the boys race in 17 minutes, 9 seconds, and will be going to state for the first time in his career as a Dragon.
Woodburn's Juve Guzman pulled away from the field, easily winning the race in 16:35. West Albany's Zachariah Roth came in second in 16:53.
But the race for the next three spots came down to the final 400 meters, Bird said. He had trained all summer to qualify for state as a senior and he wasn't about to let that go.
"That last 400 meters, I gave everything I could," he said. "I thought I could hear footsteps behind me, so it was that fear, it really (motivated) me."
Dallas coach Monique Lankheet said Bird had the fifth fastest time going into the meet and battled to move up a spot.
"At the beginning of the season he said `I'm going to go to state this year,'" she said. "It was really nice to see all that dedication pay off."
McGuire placed fourth in the girls varsity race in a time of 19:53. This will be her first trip to state.
"I'm excited," McGuire said. "I'm hoping I get a PR (personal record) next week."
Lankheet said McGuire has a shot at a breakout performance at state.
"When I looked
at the standings Mary Kate is sitting at 10th," Lankheet said. "It would be really great if she could get into the top 10."
The Dallas girls team was in contention with Corvallis and Crescent Valley to qualify for state, with only the top two teams advancing.
Dallas just missed the opportunity to send its first girls team to state with Corvallis taking first with 45 team points and Crescent Valley placing second with (56). Dallas posted 71 points, with McGuire taking fourth, followed by Carleen Fall (seventh, 20:50), Blair Harris (12th, 21:10), Catherine Roack (22nd, 21:36) and Raelee Mullins (26th, 21:51).
"For the girls, it was a quality field," Lankheet said. "We definitely made up a lot of ground."
The Dragon boys were also fighting for a team spot at the state meet, but placed fourth with a team score of 106, behind Crescent Valley (35), Woodburn (72) and Corvallis (82).
Clay Stuhr just missed qualifying for state, placing sixth in 17:13. The top five individuals advance to state. Following Stuhr was Ethan Noll (13th, 17:48), Tyler Lonsford (39th, 19:06) and Tristan Wheeler (44th, 19:26).
"I was really happy with their performance," Lankheet said. "That was the best showing that the boys have had in a long time."