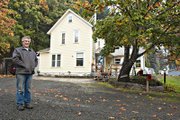 FALLS CITY -- Autumn Gigstad, a senior at Falls City High School, lives in one of Falls City's historic homes.
Built around 1890, it's seen plenty of history and Gigstad is working to unearth its secrets as part of her senior project.
Gigstad and six other Falls City students are taking a class in which they are researching and documenting the histories of 16 properties and landmarks in Falls City. They will take the information and compile three- or four-minute videos, telling the story of each location.
"I'm looking forward to finding out about the history of where I grew up," Gigstad said. "It's pretty fun seeing all those old pictures -- seeing how full the town was."
Among the properties the class will be researching are the Beulah Methodist-Episcopal Church at 242 N. Main, Falls City High School, several old farmhouses like Gigstad's, and the predominant landmark in Falls City, the falls.
The project is a partnership between the school and Fall City's Historic Landmark Commission. A grant from the Oregon State Historic Preservation Office will pay for the cameras and editing equipment the students will use to make the videos, which should be finished by the end of the school year.
Photo by Pete Strong
Autumn Gigstad
The project has challenged the students' information gathering skills and taught them a few more along the way.
"It's not like you can go online and find out stuff," Kelsey Verhaar, project adviser and high school teacher, said. "You really have to dig."
The students have looked to the Polk County Museum, local historians and the Wagner Community Library to begin their research.
"They are actually going a little further than we were expecting, which is good," said Mike McConnell, a member of the historic commission whose house is part of the project.
Randolph Osman, the chairman of Falls City's Historic Landmark Commission, said a list of 15 properties -- excluding the falls -- that were the best preserved and least altered was compiled about 10 years ago.
Osman said McConnell and Amy Houghtaling, Falls City's mayor, decided to write a grant proposal for funding to further explore those historic homes and buildings.
Photo courtesy of Mike McConnell
The Mehrling home, as it was known then, was built in the 1890s, and certain aspects are still the same today.
"It worked out as a win-win-win situation," McConnell said. He said the project gave Verhaar a chance to offer another class and the students an opportunity to learn about their home. McConnell said he hopes the project will spur interest in historic properties around town from both residents and visitors.
The class was surprised to learn Falls City at one time had hotels, a hospital, multiple stores and streets lined with people coming and going.
"Everybody wanted to be here," Gigstad said. "It was the Queen City of Polk County."
They've also found how central the falls have been throughout the history of their hometown. So far they've discovered a grist mill, a sawmill, power station and even a mansion have been built on or around the falls.
Although the project has just begun, Gigstad and her classmates have been impressed with their hometown's lively history.
"It makes me want to go back to 1920 and walk the streets," Gigstad said.