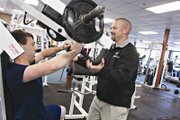 MONMOUTH -- Tony Jeffries said he's never been overly fond of running. But he's doing a 5K this month. If it goes well, there might be a 10K or half marathon in him.
"You baby step it," said Jeffries, manager of Monmouth Fitness Club, now speaking as much about getting fit in general as his own regimen. "You start seeing those results, you buy into it, it's what keeps you going."
Monmouth Fitness recently reached a milestone of its own this fall, with the town's first gym celebrating its 10th anniversary. The business has grown since the early days, with more equipment and classes and a stronger emphasis on showing folks what it takes to get healthy.
"Anybody can come into a gym," Jeffries said. "But you're not going to get the results you want unless you decide what's going to be best for you,"
Owner and retired pharmacist John McGonegal used to run a drug store in the club for 27 years until 1989. In 2000, with residents beginning to discuss the need for a gym, McGonegal decided to open his own.
"Back then, I knew nothing," McGonegal said with a laugh. "But I hired some pretty good people and we wound up getting a lot of interest and quite a few members."
Jeffries, who has a degree in fitness management from Western Oregon University, said the industry has evolved. There's more demand for certified and licensed trainers. Fitness fads come and go.
"We've tried to stay up with new things that are popular, like Zumba," he said. "And we've also tried things that haven't gone as well.
"We had one class that used wooden samurai swords ... that was good for a month or two."
There's also more competition. When Monmouth Fitness was established, it was the only game in town. Now Monmouth-Independence has three gyms. Western Oregon University's Health and Wellness Center opened last year, which impacted the club's student base. With iPods and smart phones, people can download and listen to workout programs.
"Competition has gotten tougher and the market share smaller," Jeffries said.
What's kept the club rolling is connections made with new and existing clientele, whether it's goal setting sessions with trainers, or weight loss challenges and contests.
Jeffries said he believes the club will remain viable because attitudes about health continue to improve.
"Within the last decade, people are learning how important exercise is for disease prevention," he said. "People have decided it needs to be a part of their lives."
Monmouth Fitness Club is located at 165 E. Main St. For more information, www.monmouthfit.com.