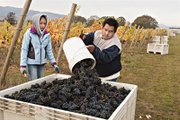 POLK COUNTY -- Patience is a quality Emerson Vineyards winemaker and vineyard manager Elliot Johns has learned while crafting wine in Oregon.
That virtue paid off this year, which turned out to be even later than 2010's late harvest.
"It's turned out great," said Johns. "A long growing season helps Oregon pinot noir. I really see good things for the season."
That was after a year that was behind schedule all the way back to spring bloom.
"That was pretty typical of all the crops in the valley," said Al MacDonald, the vineyard management instructor at Chemeketa Community College's Northwest Viticulture Center.
"We already knew in the spring this was going to be a late season. Knowing that means you can take some preventive measures."
Vineyards have picked leaves to expose grape bunches to the sun to help them dry quicker after rains to prevent rot and removed fruit early to allow the vines to ripen the remaining grapes.
Heavy rain and cold temperatures in October added some drama to the late season, but relatively pleasant weather in recent weeks has helped, especially for vineyards in warmer locations, such as Emerson in southern Polk County.
"As long as the sun is shining and it's not raining, it's just fine," MacDonald said.
Viticulture in Oregon can be unpredictable, but Johns said he tries not to panic.
"You hope for the perfect season, but there's nothing you can do about the weather," he said.
As a result of a long cool season, Emerson picked about half of its pinot grapes on Friday, Oct. 28. The remaining pinot was scheduled to be picked some time this week, making 2011 an extremely late harvest.
Photo by Pete Strong
Fernando Reyes carries buckets full of pinot noir grapes down a row to a waiting tote at Emerson Vineyards.
The picking crew at Emerson made short work of bringing in the grapes, working from shortly before 8 a.m. to just after 11 a.m. What they picked before 10 a.m. was already more than the vineyard's entire harvest last year.
Part of the reason for that is that the 2011 season didn't see as much of an assault from birds, which gobbled up literally tons of grapes last year as vineyards waited for ripening.
Nina Mansell, Emerson's assistant vineyard manager, said birds have an uncanny ability to know when the grapes are ripe. They will stay away until vineyard managers decide it's time to pick. This year, however, was a welcome relief from the birds at Emerson.
"This year we tried some different things and they didn't hit us," she said.
Frank Cerda, picking crew manager with Frank's Farm Labor Contracting, said so far this year his crews have been harvesting a large quantity of grapes at vineyards throughout the Willamette Valley.
"It's a good harvest this year," he said.
Mansell also was optimistic about what she was seeing come off the vines last week.
Photo by Pete Strong
Picker Noemi Toribio of Woodburn clips a cluster of pinot noir grapes from the vine at Emerson Vineyards south of Monmouth on Thursday, Oct. 28.
"The grapes look really good," she said. "I'm super excited. They are big, juicy clusters."
It took some time, but sugar levels, which dictate the amount of alcohol in the wine, fell into balance with acid levels in recent weeks.
"We got really lucky," she said. "They were spot on."
Johns said the benefit of years like 2010 and 2011 is they allow pinots to develop complex flavors and show off the finest attributes of the variety.
"You get excellent flavor, with enough sugar to make elegant wine," Johns said.
MacDonald was similarly optimistic.
"The grapes taste really good and the wine looks good so far," he said.
Johns said that is the payoff for waiting for the right time to harvest. Very rarely does it happen that there isn't a break in the fall rain significant enough to bring in the harvest, he said.
"The main thing you have to be sure about is that the grapes are ready," Johns said. "You have to have a little patience."
More like this story