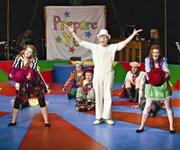 DALLAS -- If you need to brush up on the Gospel of Matthew, Dallas High School's production of "Godspell," opening tonight (Wednesday, Nov. 9), will have you up to speed in about two hours.
And it will put a smile on your face to boot.
The musical, written in 1970, tells the story of Jesus' ministry contained in the Gospel of Matthew, though some stories are found elsewhere in the Bible.
Dallas High's production does it with as much energy as the cast of 15 can muster and Bollman Auditorium can contain.
"It's really joyful and affirming, yet has a really serious message," said Blair Cromwell, DHS theater director.
The cast portrays Jesus, John the Baptist, who later becomes Judas Iscariot, and a troupe of disciples who are identified by the name of the actors who play them.
Dallas' production has a circus motif, so among the characters there's a fortune teller, a clown, a pirate, a high-wire walker and ring master. The only exception is Jesus, who is dressed as a carpenter.
The costumes are meant to be fun and colorful, but they also serve a larger purpose.
"It's so easy for (the disciples) to blend together in the storytelling of this play," Cromwell said. "This shows them more as individuals."
Lighting equipment, donated by Levi Walker of Salem's Xplode Entertainment, helps give the production a rock concert-like feel that only adds to the playful atmosphere.
The musical separates itself from most in that the entire cast stays on stage the entire length of the show. The cast is tasked with transitioning from scene to scene without the benefit of leaving the stage.
"It's intense," said senior Jackson Geiger, who plays Jesus. "I have to think about what I have to do next without looking like I am."
For junior Maya Hoskisson, performing in her first show at DHS, "Godspell" is quite an introduction to live theater. She said actors really have to be willing to put themselves front and center for the duration
Photo by Pete Strong
From left, Marietta Glazner, Seth Clark, Paul Disney, Kathryn Collins, Maya Hoskisson and Andrew Minton onstage during a rehearsal for tonight's opening performance of "Godspell."
.
"I don't just get one or two scenes, I'm in the whole thing," she said.
The parables of the good Samaritan, Lazarus and the prodigal son and lessons of "turning the other cheek," "loving your neighbor," and forgiveness are woven throughout the play.
Stories are portrayed through different guises, such as a game show, a silent film, a game of charades
and a rap song -- all done with no costume changes and few props.
Later in the second act, however, John the Baptist gradually changes into Judas Iscariot right before the eyes of the audience.
"That character grows up to be ruthless and rebellious," said senior Andrew Thornton, who plays both characters.
With that change, the play takes on weightier material as the story nears its conclusion.
Cromwell said "Godspell" portrays Jesus' teachings with humor and physical comedy, without losing meaning. Cast members say a message of love and forgiveness is consistently reaffirmed.
"I like that I'm playing Jesus in such a loving way," Geiger said. "It's a blessing to portray such a wonderful person."
It's Showtime!
What:
Dallas High School's Production of "Godspell"
Where:
Dallas High School, Bollman Auditorium, 1250 SE Holman Ave.
When:
Wednesday, Nov. 9, through Saturday, Nov. 12, at 7 p.m. and Nov. 12 at 2 p.m.
Admission:
$5 per person. Tickets are available at the door.