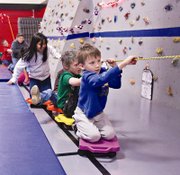 INDEPENDENCE -- There's not a kid at Independence Elementary School who doesn't look forward to the week when their gymnasium is transformed into the Indiana Jones obstacle course, complete with crocodile moats, acid pits and a sweeping soundtrack.
And it's apparent that Harrison Ford's whip-cracking alter ego has nothing on students like third-grader Jesus Nunez.
Nunez runs over a gymnastic balance beam at almost a full sprint, flips off a spring board onto a mat, swings on a rope and gingerly makes his way through a field of bowling pins ... er, bones.
About 25 other children are doing the same during teacher Meg Greiner's physical education class. Greiner has been running this course for about 20 years. It's rife with body management, strength and conditioning training.
From a student's perspective, it's just fun.
"I like it because I get to climb a rope and swing like Tarzan or something," said third-grader Leonardo Hernandez.
The kids are beaming, as is Greiner.
"Nobody is standing still here," she said.
Greiner hasn't done the course since 2009, when Central School District slashed PE and music program faculty levels in half at four elementary schools in Monmouth and Independence.
That left two teachers each in PE and music to split their time between two buildings.
For Greiner and her peers, it meant being at Ash Creek Elementary School and IES for only one or two days a week, fewer hands-on lessons and little continuity with students, she said.
"Last year was a nightmare," Greiner said. "I think I spent the first 10 minutes of each class just managing kids because I hadn't seen them for a week."
Memorable activities that have become trademarks for her classes, such as skateboarding and unicycle demonstrations and the obstacle course, haven't been possible with kids on a once-a-week class schedule.
IES and Ash Creek have gone to a half-year schedule for continuous instruction in music and PE in 2011-12. Greiner will be here for the next few months before going to Ash Creek for the remainder of the year.
It's not a perfect situation, but it's an improvement. It makes for a better curriculum and allows three days a week with kids instead of one.
And it's also allowed her to dust off her obstacle course equipment for K-5 children who've missed out on the Indiana Jones experience.
"They had been asking me to death about it," Greiner said.