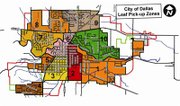 DALLAS -- The city of Dallas is beginning its leaf pickup route through the city on Monday, Nov. 28. Crews will begin with Zone 1 (see map) and continue through Zone 10. Completing the circuit through town will take about two weeks.
City officials are asking residents not to rake leaves into the street for pickup after Dec. 15. After that date, crews will make one final sweep through town to remove any remaining leaves.
Please keep in mind:
* Leaves should be raked into the street in small piles, but in a manner that doesn't block the roadway.
* Be sure to keep the piles away from the storm drains and at least 18 inches from the curb to allow water to drain.
* The city's equipment can only pick up leaves. Do not place trimmings, brush, grass or other debris in the street.
Residents also are welcome to drop off leaves at the following sites until Jan. 1: in the gravel lot west of the ball fields at Lyle Elementary School; in the parking lot at Dallas City Park at the end of Allgood Street; and at the far east end of Hankel Street in front of the barricade.
Daily updates will be available on the city's website calendar at www.dallasor.gov. Call 503-831-3562 for information on which zones crews are working in during a particular time.
For those interested in receiving leaves, the city will deliver them. Call Patti Senger at the city of Dallas for delivery: 503-831-3562.