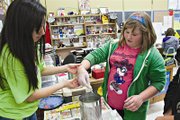 INDEPENDENCE -- Dalila Negreta likes to play soccer. She has a lot to say when her audience is other children, but is shy around adults.
Those are observations that Esmeralda Rodriguez, an eighth-grader at Talmadge Middle School, has gleaned from time spent with the sixth-grade girl this trimester; she's Negreta's student mentor.
Rodriguez is helping coordinate an art activity for sixth-graders in her fourth-period class on a recent day. Negreta is one of the last remaining, decorating a wax casting of her hand.
Rodriguez compliments her. Negreta smiles.
"I like their expressions when they do something good and you tell them that," Rodriguez said. "I like when they're having fun."
It might seem like an affront to the social hierarchy of middle school, eighth-graders mingling with sixth-graders. Rodriguez thinks otherwise.
She's one of about 60 eighth-grade students at Talmadge who act as activity planners and mentors for their younger peers via a program called Where Everybody Belongs (WEB).
It's a transition program for students run largely by students, said Kelly Cutsforth, a Talmadge teacher who oversees the program.
The goal is for eighth-graders to mature and become leaders, and for sixth-graders to develop social skills and feel like they belong in their new school, Cutsforth said.
"Kids have a powerful message to send to one another," she said. "And sometimes younger kids listen more when it comes from a student instead of an adult."
Student leaders and mentors are hardly new concepts. And service learning opportunities have been an increasing trend in classrooms during the last decade.
The WEB initiative was founded 16 years ago by the Boomerang Project, a company that administers training and resources for middle school and high school transition programs. Goals are improving student academic performance and decreasing disciplinary issues.
WEB is used in more than 1,000 schools in 33 states. It was adopted at Talmadge in 2008, when the school started enrolling sixth-graders.
WEB students must pass their state assessments and earn a high grade-point average. They're then asked to brainstorm activities for sixth-graders during the year and come up with and coordinate their own event and fundraisers, Cutsforth said.
"The 25 kids I've had this trimester, I make them log their service hours," Cutsforth said. "They've already logged up to 670 hours."
They're also assigned up to 10 sixth-graders to mentor during their trimester.
Cutsforth provides training on how to identify problems, prevent bullying or seek out children who appear disconnected from their classmates. They'll eat lunch with younger kids or send them cards on their birthdays.
Cutsforth said she's had sixth-grade teachers contact her about using WEB students as liaisons in situations where children respond better to other children.
"It can be scary when you're a sixth-grader," said Samantha Sackett, an eighth-grader. "When you're little, the older kids are kind of intimidating, so it's nice to have a group who you think really cares about you."
It's also helped her with her public speaking, Sackett said.
"I can go up in front of people now and make announcements," she said. "I used to get so nervous, my legs shook."
Karina Newbeck, a Talmadge sixth-grade teacher, said she taught here before WEB.
"The sixth-graders feel like they belong here," she said. "And it's neat to see my former sixth-graders working in a leadership role."