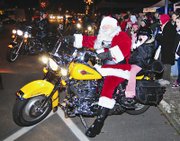 INDEPENDENCE -- Santa Claus will give his sleigh a break and visit Independence by train on Saturday, Dec. 3, for the Independence holiday festival and Parade of Lights.
Santa will arrive by a Portland & Western Railroad locomotive at 1:45 p.m. on Second Street between Monmouth and D streets, near the Independence Public Library.
From 2 to 4 p.m., children and families will have a chance to pose for pictures with St. Nick. Younger kids will receive free gifts and goodies. Hot chocolate will be served.
From 2 to 5 p.m., Ovenbird Bakery, 215 S. Main St., will offer cookie decorating. The library will host a cookie-and-cider open house from 4 to 5:30 p.m.
Participants in the Parade of Lights will gather at First Baptist Church across from Central High School at 4:30 p.m.
The parade departs at 5:30 p.m.
and will wind east down Monmouth Street to the Independence Civic Center, 555 Main St. S.
Community members are invited to join in for some Christmas caroling as part of "Independence Sings!" at 6:30 p.m. Refreshments will be provided and prizes awarded to winning parade entries.
Independence's holiday festivities are coordinated by the Monmouth-Independence Chamber of Commerce, the Independence Downtown Association and the Elks Lodge 1950.
For more information: Marilyn Morton, 503-838-4268.