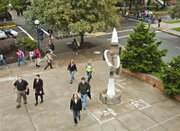 Annual doll event
slated for Saturday
The Wagon Wheel Dollers Doll Club will host its ninth annual fall doll show and sale Saturday, Oct. 8, at the Polk County Fairgrounds and Event Center, 520 S. Pacific Highway (99W), Rickreall.
Admission to the show, which runs from 10 a.m. to 4 p.m., is $3 for adults. Early bird pre-sale admission, which runs from 9 to 10 a.m., is $6. Children 5 and under are free.
The one-day event normally includes more than 100 vendor tables featuring dolls of every type, as well as bears, miniatures, toys and related items.
Sales tables are available for $30 each.
For more information: Arleta Day, 503-581-1206; Sally Bradford, 503-399-7679.
Brunk House site
of 'Apple Festival'
Polk County Historical Society is hosting its 27th annual Apple Festival at the historic Brunk House, 5705 Salem-Dallas Highway, near the Oak Grove Road junction, Saturday, Oct. 8.
The event runs from 10 a.m. to 3 p.m. Apple pressing to make fresh cider and tours of the 1861 home and grounds highlight the gathering. Tours are available for a donation.
Freshly squeezed apple cider will be sold for $5 per gallon and apple desserts will be on sale.
Donations of apples still on the tree are being accepted for the cider press. Apples may be delivered or picked up if arrangements are made.
For more information: Jo Ann King, 503-838-6603; Brunk House (day of the event), 503-371-8586.
Sons of Normay
to gather for event
Sons of Norway will hold its October Halloween meeting Saturday, Oct. 8, beginning at 6:30 p.m.
The gathering takes place at 1625 Brush College Road NW in West Salem. Attendees are encouraged to wear a costume; prizes will be awarded.
For more information: Rob Conahey, 503-390-6470; e-mail to robertjames97303-4367@hotmail.com.
Old-fashioned swing
dance is Saturday
The Oregon Valley Boys will perform as part of the band's "Grange Hall Tour of 2011-12" Saturday, Oct. 8, at the Oak Grove Grange Hall, 2700 Oak Grove Road, near Rickreall.
The event, which runs from 7 to 10 p.m., is designed to be an old-fashioned community dance featuring Western swing music. The public is welcome.
The group's "tour" is designed to call attention to small-town community gathering points, like Grange halls, and their importance to the area they serve.
Admission is $5 for adults, with children under 12 admitted free. Food and beverages will also be available for purchase.
For more information: Tom Peichrow, 503-551-1987; Randy Hill, 503-507-1228; e-mail to oregonvalleyboys@gmail.com.
Square dance back
at Guthrie Park
Guthrie Park Community Center will host its monthly country square dance on Saturday, Oct. 8, from 7 to 10 p.m.
All ages are welcome for an evening of dancing to the music of Cash & Company. Caller is Alan Ede. Dances include old-time squares, big circles, longway sets and waltzes. No experience is necessary; all dances are taught.
Admission is $5 per person and children 12 and under are free. A family rate of $15 for four or more people from the same immediate family is available.
The center is located at 4320 Kings Valley Highway, south of Dallas.
For more information: Sally, 503-623-0809; guthriepark@gmail.com; www.guthriepark.org.
Salem Singers set
to perform in Dallas
The Salem Singers, a men's chorus of 15 singers, will perform a sacred concert Sunday, Oct. 9, at 10:30 a.m. at New Life Nazarene Church, 341 NE Kings Valley Highway, Dallas.
The concert will include gospel songs, Southern gospel and hymn arrangements.
The chorus is well known, having sung up and down the West Coast from British Columbia to Southern California during the past 62 years. The chorus just finished a 10-day tour in eastern Pennsylvania.
Sunday's concert is open to the public.
For more information: 503-267-7670; www.salemsingers.org.
Grange is hosting
Sunday taco meal
Buell Grange Hall is hosting a pork taco dinner Sunday, Oct. 9, from 1 to 4 p.m.
Cost is $7.50 for adults and $5 for children under 12. The public is welcome.
The Buell Grange is located at 5970 Mill Creek Road, northwest of Dallas off Highway 22.
For more information: 503-623-8462 or 503-843-4703.
Master Gardeners
will meet Oct. 12
Ornamental grasses in Willamette Valley landscapes is the topic for the October chapter meeting of the Oregon State University Extension Polk County Master Gardeners.
The group will meet Wednesday, Oct. 12, at 7 p.m. at Trinity Lutheran Church, 320 SE Fir Villa Road, Dallas, across from the Motor-Vu Drive-In. The event is free and open to the public.
Carolyn Kolb from Wind Dancer Garden will speak about selection and maintenance of noninvasive ornamental grasses available to Willamette Valley landscape gardeners.
For more information: 503-364-0438 or 503-623-8395.
AARP driver safety
class being offered
A two-day AARP Driver Safety Class will be offered Wednesday and Thursday, Oct. 12-13, at Salem Electric in West Salem.
The class meets from 8:30 a.m. to 12:30 p.m. at 633 7th St. NW.
Classes are targeted at experienced drivers, but drivers of all ages are welcome. The class provides reminders on safety tips and updates on newer laws.
Cost is $14 per person, $12 for those who present a current AARP membership card.
To register or for more information: Helen Findley, 503-362-3601.