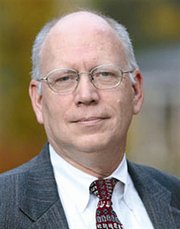 MONMOUTH -- Colleges and universities cannot prohibit an individual with a concealed weapons permit from bringing guns onto campus, the state appeals court ruled last week.
In 2010, the Oregon Firearms Educational Foundation filed a petition for review of an Oregon administrative rule that had been previously used to sanction people who possess guns on school grounds.
"We are disappointed in the ruling," said Oregon University System chancellor George Pernsteiner. "We will continue to review the opinion in order to consider future options to protect the safety of our students, faculty, staff and visitors."
The case was sparked by a 2009 incident at Western Oregon University involving former student Jeffrey Maxwell.
Maxwell was stopped in January of that year by security officers who found him carrying a Derringer pistol and a knife inside the Werner University Center.
Maxwell, a Marine veteran, had a concealed handgun license. No charges were filed against him, but a conduct committee of students and officials suspended him.
Maxwell's punishment was eventually lifted, but OFEF proceeded with a broader challenge of the legitimacy of the ban. Maxwell was not involved in this lawsuit.
An opinion by three judges of the Oregon Court of Appeals on Sept. 28 showed that OUS overstepped its boundaries by interpreting a state administrative rule as a means of prohibiting guns on OUS properties.
The Oregon Legislature alone has the ability to create and enact firearm laws, which makes the provision invalid, the judges wrote.
"We're obviously pleased that the courts have recognized that everybody is required to obey the law," said Kevin Starrett, executive director of the OFEF and the Oregon Firearms Federation.
So what does it mean? At WOU and elsewhere?
Di Saunders, an OUS spokeswoman, said that all of the safety and security protocol campuses have in place right now are still in effect.
People openly brandishing a weapon or simply acting in a manner that could be considered threatening may still be approached and confronted by law enforcement, she said.
"But in the past, if we had heard somebody was on campus with a firearm who had a concealed weapon permit, we could say you're not able to do that on campus," Saunders said. "We are not able to do that now."
OUS will review its existing safety procedures and consider new ones, Saunders said.
Fears that the ruling will increase the danger or threat of violence on campuses are "bizarre," Starrett said, adding that there will be no noticeable change to the environment.
"People who lawfully carry guns on campus aren't children," he said. "They have to pass background checks and pass state-required classes. Those people carry everywhere, Starbucks, playgrounds ... and they're not doing anything wrong.
"Why somebody thinks that a lawful gunowner, just because they're crossing a college campus, is going to suddenly lose their mind and (act differently) is totally irrational," he added.