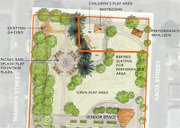 MONMOUTH -- The city of Monmouth will start design work this year on an amphitheater for Main Street Park.
Monmouth officials have been prioritizing how to spend urban renewal district money, general fund money and other available resources for municipal parks projects that have been on the drawing board for about three years.
Some are under way. A new fountain in Main Street Park will be erected sometime next summer.
City Council agreed to pay on Sept. 20 for the design of a new amphitheater that would sit in the northeast corner of Main Street Park. Cost for this preliminary work is estimated at $50,000.
Business owners "have been energized by the events in the park, they see the amphitheater as the next logical step," Monmouth Community Development Director Mark Fancey said. "It's an important feature and attraction downtown."
Fancey said a firm would be hired sometime before the end of 2011.
Monmouth has nearly $2.5 million between its URD, SDC and general funds that can be used on park projects, though how it's divided and spent hasn't been determined, Fancey said.
Other improvements include the Madrona Park walking trail and arboretum. Depending on irrigation and planting options, that project could range between $240,000 and $346,000.
A master plan for Main Street Park includes an amphitheater/performance pavilion. The appearance, size and cost for it would be contingent on design, Fancey said.
The Monmouth Business Association has begun lobbying for the amphitheater. Last month, several members asked the city to push it to the top of the city's parks to-do list.
"We want to see Main Street Park used to its fullest potential," said Terri Gregory, owner of MaMere's Bed and Breakfast. "We've been thrilled seeing so many people there during the last two summers, we don't want to lose that momentum."
Ray Stratton, owner of Main Street Pub & Eatery, said the MBA would fundraise for an amphitheater, if only to expedite it.
"Let us run with it," Stratton told councilors last month. As business people "we see huge sales increases with out-of-town people from Cycle Oregon, Music in the Park ... it hits our pocketbooks very nicely."
Business owners aren't the only ones interested. Western Oregon University's theater department faculty has expressed an interest in the planning process, Fancey said.
"They would participate in the design, to come up with something that's amenable to having live theater in the park," he said.