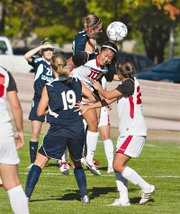 MONMOUTH -- Marina Austin scored on a rebound in the game's 54th minute Oct. 1, giving the Western Oregon women's soccer team a 1-0 win against visiting Simon Fraser.
The decisive play started when a shot by Lindsay Bauman was stopped by the Simon Fraser goalkeeper. Austin was in the right place and the right time, and her third goal of the season proved to be the difference.
The Wolves, who lost 4-1 Sept. 29 against visiting Central Washington, dominated play much of the day and outshot the Clan 22-2.
"We came back and played hard from the start," said WOU coach Steve Ancheta. "We're working on building confidence to play in a league that calls for a high level of play."
WOU goalie Brittney Rigtrup recorded her fourth shutout of the season.
Bauman scored for Western against Central Washington. JoEllen DeLeon earned the assist.
Western next will play at Saint Martin's Saturday, Oct. 8.
"We should see a good game on the road," Ancheta said. "There is no easy win in this league."