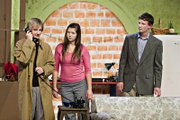 INDEPENDENCE -- There's a scene in the 1967 film "Wait Until Dark," based on the play of the same name, that involves Audrey Hepburn being menaced by Alan Arkin in a villainous turn.
How it unfolds within darkness and shadow has prompted many a critic to regard it as one of the most suspenseful moments in movie history.
Wendy Boyack said her hope is that the cast and crew of Central High's forthcoming stage version of the work can invoke a little of that magic.
"It's difficult to re-create ... you're having to maneuver over bodies and not hurt fellow actors," said Boyack, the director. "But we're getting better at it and by the time we open, it should be intense."
Central High's theater department will kick off a four-night run of "Wait Until Dark" today (Wednesday, Oct. 19).
A theater graduate of Brigham Young University, Boyack was involved with regional theater in Utah during the 1990s and co-directed "Brigadoon" at Pentacle Theatre in September.
Boyack has volunteered as the department's technical director for the last six years. This will mark her first time
Photo by Pete Strong
Leif Olsen, playing con man Harry Roat, discusses the scheme with his criminal cohorts after taking Lisa, played by Grace Peets, out of the equation.
at the helm of a school production.
She had a long list of plays she was interested in staging, but ultimately opted for a thriller in Frederick Knott's "Wait Until Dark."
"We haven't done anything as intense as this in a while," Boyack said. "The energy needed is much different than a comedy."
The plot is fairly straight forward. Susy Hendrix, a recently blind woman living in 60s-era New York, is targeted by three con men searching for a doll in her possession that, unbeknownst to her, is filled with heroin.
The villains attempt to exploit her blindness. Hendrix uses her disability to her advantage by using darkness to avoid danger and outwit her opponents.
The play is set in Hendrix's apartment, which was re-created with tall walls and dark colors to give the characters a feeling of vulnerability.
Darkness also plays a role. As mentioned, there's one frantic scene that happens almost entirely without light, save what emanates from an open refrigerator.
Central High's new theater has a state-of-the-art computerized lighting system that can move lights by motor and change gel filters on lenses with the flip of a switch or turn of a dial to produce different colors. It's been particularly helpful for this show, Boyack said.
"I would have needed twice as many lights in our old theater to get the same effect," she said.
JennieLinn Jessop, a Central High senior, plays Hendrix. Jessop said she did a lot of rehearsing in blindfold to try and mimic a blind person's mannerisms.
The darkness made some choreography a challenge, she said, noting she and other actors endured a few injuries ranging from rug burns to bruised ribs.
"My legs are still beat up from bumping into furniture," she said. "But it's still fun."
"Susy is a cool character and I've never played a part like this before," Jessop added.
Boyack said she didn't purposely select the thriller for the fall production to coincide with Halloween season. It's a happy coincidence, though.
"It's a perfect lead in -- scary, dark, murder and mayhem," she said.
It's Showtime!
What:
Central High School's theater program presents Frederick Knott's "Wait Until Dark."
When:
Wednesday, Oct. 19; Thursday, Oct. 20; Friday, Oct. 21; and Saturday, Oct. 22. All performances begin at 7 p.m.
Where:
Central High School auditorium, 1530 Monmouth St., Independence.
Admission:
Tickets are $8 for adults and $5 for those 17 and under. Alumni can get in for $3 on Oct. 20. There's also a $3 admission for students from any school in Polk County on Oct. 21. Tickets can be purchased at the door or by calling 503-838-0480.