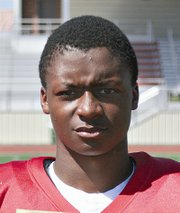 LINCOLN CITY -- Nothing can seemingly stop the No. 1-ranked Central Panthers on the football field right now.
Not even a bank of stadium lights going dark.
The Panthers scored on all six of their first-half possessions -- including one where the team had to change directions on the field after a bank of lights went out at one end of the stadium -- and never looked back in a 56-6 victory at Taft Thursday, Oct. 13, in Oregon West Conference play.
While the Central offense was clicking on all cylinders, it was the play of the defense that particularly impressed Panthers coach Shane Hedrick.
"One of the things that is really opening up the doors for us is our defense," Hedrick said. "We had a lot of three-and-outs. We had a pick six, we recovered an onside kick. Defensively, the kids are playing very, very good, solid defense right now. They're doing a great job getting to the ball."
Midway through the second quarter and with the Panthers leading 22-0, the lights went out on the tower illuminating the southwest portion of the field at Taft High School. Hedrick said that after a short discussion with game officials, it was decided to allow Central to move to the other end of the field to continue playing.
It didn't take long for the Panthers to build on their lead, as Branden Cutsforth caught a 5-yard touchdown pass from Tanner Omlid to cap the drive -- and the rout was on.
"Offensively, we have some real weapons," said Hedrick. "The game plan was to come out and be balanced on offense, and we did that, especially in the first half."
Central (3-0 OWC, 7-0 overall) turned in arguably its most complete game of the season:
* Offensively, the Panthers' well-balanced attack was paced by Toby Prescott's 126 rushing yards on 15 attempts and two touchdowns; Omlid's 13-of-21 passing performance for 161 yards and two touchdowns; and Donavon Hampton's four receptions -- two for TDs -- for 79 yards.
* Defensively, the Panthers forced a number of three-and-outs; had Jake Carter return an interception 30 yards for a score; recorded 4 1/2 sacks; saw several players, including Majel Leon and Cutsforth, turn in big efforts; and didn't allow a touchdown until the Tigers found the end zone on the final play of the game.
* The team also did not commit a penalty in the contest.
"It was a well-played game by the Panthers," said Hedrick.
Central, thanks to its victory coupled with Philomath's 48-34 upset of Newport, is all alone in first place with two league games remaining. The next contest, the Panthers' regular-season home finale, is Friday, Oct. 21, at 7 p.m. against Stayton.