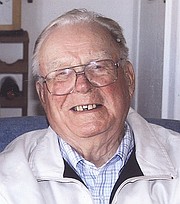 Jacobson -- 90th Birthday
Ken Jacobson of Dallas will celebrate his 90th birthday during a reception hosted by his family Saturday, Sept. 17, from 1 to 3 p.m. at Trinity Lutheran Church, 320 Fir Villa Road, Dallas. All are welcome to attend.
Ken was born on Sept. 19, 1921, in Vancouver, Wash. He has been a resident of Dallas for 64 years.
He graduated from Willamette University in 1947. He is one of the few remaining Willamette football players who were stranded in Hawaii when Pearl Harbor was bombed by the Japanese in 1941.
Ken retired in 1983 after serving as a teacher, coach, activity and athletic director, and school administrator for more than 35 years in the Dallas public school system.
More like this story