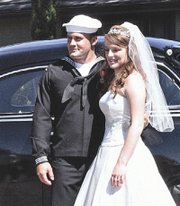 Mitchell-Cruickshank
Gina Nanette Mitchell of Perrydale
and Mac Cruickshank of Pearl Harbor, Hawaii, were married on July 9 at the Fowler residence in Perrydale.
Pastor Jerry Franz officiated the ceremony.
The bride is the daughter of Dan and Lisa Mitchell of Perrydale. The groom is the son of Bryce and Carrie Cruickshank of Sheridan.
Maid of honor was Anica Smith. Bridesmaids were Calandra Cruickshank, Hannah Mitchell and Rachel McKee. Flower girl was Jessica Cruickshank.
Best man was Tell Cruickshank. Groomsmen were Matt Kreun, Sam Garber and Zach Grimsbo. Ushers were Justin Cruickshank and Wyatt Fowler.
Gina is a 2011 graduate of Perrydale High School. She is a homemaker.
Mac is a 2009 graduate of Perrydale High School. He is stationed in Hawaii with the U.S. Navy Seabees as a construction mechanic.
The newlyweds make their home in Pearl Harbor.
More like this story