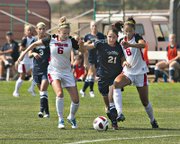 MONMOUTH -- Western Oregon's women's soccer team recorded its second straight shutout Sept. 12 in a 0-0 tie with visiting Concordia.
Western goaltender Brittney Rigtrup has not allowed a goal for the past two games. In all, the Wolves (1-2-1 overall) have allowed two goals in four games this season.
"I felt that Brittney played hard," said WOU head coach Steve Ancheta. "Brittney came up huge on two saves and had a solid game overall."
The Cavaliers appeared to have scored at one point in the second half, but the play was waved off because the referee ruled that Concordia was offsides.
Concordia outshot Western 13-7 but managed only three shots on goal.
Five Wolves recorded shots. Lindsay Bauman led the way with two shots.
Western returns to action on Thursday, Sept. 15, with its Great Northwest Athletic Conference opener against Northwest Nazarene. WOU will host the contest, set to begin at 3 p.m.
"I feel we are prepared overall to start conference play," said Ancheta. "I feel that the GNAC is one of the top conferences in the USA. The games are going to look a lot like today, very tight, with no one blowing out the other."