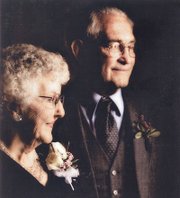 Tilgner -- 60th
Del and Pat Tilgner of Dallas will celebrate their 60th wedding anniversary on Sept. 22. The couple will mark the occasion with an RV trip to Eastern Oregon to visit family and then a trip to Seven Feathers Casino in Southern Oregon.
Delmond O. Tilgner and Patricia M. Parke were married on Sept. 22, 1951, in Dallas Methodist Church.
They have lived in the Dallas area all but three years of their married life.
In 1990 Del and his sons started a precision sheet metal business in Independence, which today employs all six of his sons plus several other employees.
Their family includes Bradley (Maura), Mark (Julie), Gregg (Debbi), Scott (Chris), Brent (Fiona), Todd (Traci) and Jill (Jorge). The couple has 18 grandchildren and seven great-grandchildren.
More like this story