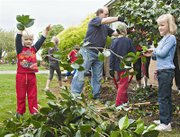 Music jam returns
to senior center
The monthly Senior Music Jam Session at the Dallas Senior Center returns from its summer hiatus on Thursday, Sept. 22.
The event, which normally takes place on the fourth Thursday of the month, begins at 6:30 p.m. at the Dallas Senior Center, 955 SE Washington St.
All area musicians and vocalists, regardless of age, are welcome to attend and participate. Admission is free; attendees are asked to bring a snack to share.
This is the sixth year of the music jam session.
For more information: Michele Campione, 503-623-5055.
4-H club schedules
Saturday fundraiser
The Sew What's 4-H Club will conduct a fundraiser Saturday, Sept. 24, from 9 a.m. to 1 p.m. during the Independence Farmers Market in the Sterling Bank parking lot.
The club will be selling baked goods as well as some sewing projects. Proceeds from the event will go toward purchase of cotton fabrics to be used for "Dress a Girl Around the World." Cotton fabric can also be donated to the club.
More information on the project is available online at www.dressagirlaroundthe world.com.
For more information on Saturday's fundraiser: Joan Setniker, 503-399-8569 or 503-932-3823.
Library book sale
set this weekend
Friends of the Independence Public Library will host its annual fall book sale during the Hop & Heritage Festival this weekend.
The event takes place Friday, Sept. 23, and Saturday, Sept. 24, from 10 a.m. to 4 p.m. at 311 Monmouth St., the site of the old city library.
An assortment of garden books, cookbooks, fiction, nonfiction, westerns, science fiction, fantasy and more will be available, as will videos and other items.
Hardbacks cost $1 and paperbacks 50 cents. Proceeds go toward special programs at the Independence library.
For more information: Betty Plude, 503-838-4039; Independence Public Library, 503-838-1811.
Eyeglass donations
accepted by Lions
Central Lions Club will collect used eyeglasses Friday, Sept. 23, during the Hop & Heritage Festival's Hometown Barbecue in downtown Independence.
The event begins at 4:30 p.m. near the plaza at Riverview Park. All used and unwanted eyeglasses will be accepted. A collection box will be available for drop off.
Lions Clubs collect used eyeglasses throughout the year for distribution throughout the world for those unable to afford the cost.
For more information: Debbie Bach, 503-838-2416; Bruce Gordon, 503-606-2150.
Alpaca farms will
host open houses
Didn't see enough adorable farm animals during fair season this summer? Then Saturday and Sunday, Sept. 24-25, is your chance to meet more cute, fuzzy critters during National Alpaca Farm Days at area farms.
Open houses this weekend give farmers a chance to show off their friendly herds and visitors an opportunity to learn about raising alpacas and purchase Alpaca-related products from socks to sweaters.
Participating farms include:
* Evergreen Terrace Farms Alpacas, 7630 Westview Lane, Monmouth. Open from 9 a.m. to 4 p.m. Saturday and Sunday; 503-606-0720 or go to www.etfarm.com.
* Jocelyn's Alpaca Ranch, 20700 Parry Road, Falls City. Open 10 a.m. to 4 p.m. Sunday; www.jocelynsalpacaranch.com
* ZZ Alpacas is open by appointment; call 503-838-1737 or go to www.zzalpacas.com.
Citywide yard sale
on tap in Monmouth
A communitywide yard sale will be held at Monmouth's Main Street Park on Saturday, Sept. 24, from 10 a.m. to 2 p.m.
The event is sponsored by the Monmouth Business Association and city of Monmouth and is part of New Student Week at Western Oregon University.
Vendors can reserve a 10-foot-by-10-foot spot at the sale. Any kind of goods can be sold, though they should be in usable condition.
There is no cost to participate.
For more information: Terri Gregory, 503-330-6598; Mark Fancey, 503-838-0722.
Spaghetti dinner
served up Sept. 24
Dallas Area Seniors will hold a spaghetti dinner fundraiser Saturday, Sept. 24, from 5 to 7 p.m. at the Dallas Senior Center, 955 SE Washington St.
Cost is $5 per person, and the meal includes spaghetti, salad, bread, dessert and beverage.
All are welcome to attend. Proceeds from the event benefit the operating fund for the new senior center.
For more information: 503-623-8554.
Open house will
honor longtime vet
Dallas Animal Clinic will hold an open house to wish longtime veterinarian Terri Jackson good luck in her new adventure Monday, Sept. 26, from 6 to 8 p.m.
The clinic is located at 135 SE Fir Villa Road, Dallas. Friends, family and clients are welcome to attend. Refreshments will be provided.
For more information: 503-623-3943.
Vendor space for
doll show available
Vendor space is available for the Wagon Wheel Dollers' ninth fall doll show and sale, scheduled Saturday, Oct. 8, at the Polk County Fairgrounds and Events Center in Rickreall.
Sales tables cost $30 each.
For more information: Arleta Day, 503-581-1206; Sally Bradford, 503-399-7679.