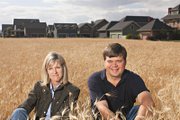 MONMOUTH -- Eric and Eve Olsen envision apple and pear trees fronting Martin Way in the Edwards Addition neighborhood in South Monmouth.
To the east is where potatoes, pumpkins and tomatoes might go -- or maybe something else. They haven't decided yet.
There would surely be an herb and salad garden ... and plots for carrots, beets and cabbage. If city ordinances allow it, there might be a place for a small free-range area for chickens.
When the construction slowdown hit in 2008, developer Eric Olsen's plans for row houses on a 3-acre parcel in his Edwards Addition subdivision halted.
Graphic by Pete Strong
Most involved in real estate would cringe at the thought of bare land in a subdivision without homes on it. Eric and Eve Olsen, meanwhile, said they see "pure potential."
"We have these incredible growing seasons in Oregon and an ability to have food in the valley," Eve Olsen said. "You might as well take advantage of it."
Last year, Eric and Eve began considering creating a working "urban farm" in the middle of the neighborhood.
Residents learned of the idea. And loved it. They've begun to form a structure in which homeowners themselves can be involved in managing, designing and marketing the farm -- and, of course, sharing in what's grown.
The Olsens, meanwhile, just recently harvested the cover crop of wheat and malting barley they planted last spring, as well as a test plot of vegetables.
Tonya Ruscoe-East lives in Edwards Addition and is part of a volunteer group that will oversee the urban farm. The project is a unique one, she said.
"It's giving a space for our neighbors to do something that you wouldn't normally be able to do living in town," Roscoe-East said. "It's also a different experience than being in the country, where you're separated from your neighbors by geography."
Increased interest in food security, safety and sustainability has made urban agriculture a popular movement in the United States in recent years.
Photo by Pete Strong
Eve Olsen picks a basket each of peppers and tomatoes from the vegetable plot at Edwards Addition. She said the harvest so far has been later than planned, but bountiful.
In practice, it can be small, like using a city rooftop to house a garden, or as ambitious as the Hayes Valley Farm in San Francisco, a nonprofit farm that started off as a decommissioned freeway offramp.
Eve Olsen said it was becoming apparent last year that the land at the southern edge of Edwards Addition wouldn't be developed any time soon because of the housing slowdown.
Spurred on by their son, the couple decided to utilize it for agriculture. Not another community garden, mind you -- the upscale subdivision already has one of those.
Instead, Eric Olsen said he considered a concept by contemporary urban planners such as Andres Duany of integrating a farm into a residential area and allowing neighbors to get involved.
"Duany calls urban agriculture `the new golf course,'" Olsen said. "You're creating an amenity that you're living around."
The Olsens discussed the plan with Monmouth officials first; the land sits within Monmouth city limits, but still carries a farm-use designation until it's actually platted for building lots.
Then they approached Edwards Addition homeowners. Most lauded the idea and asked how to participate. A committee was formed soon after, which Ruscoe-East volunteered for.
John Stewart Landscape Architect
The farm's plan includes fruit and vegetables, field crops like corn and beans, an orchard and a multi-use building.
"I fell in love with it," she said. "It's creating something new ... a different model for living together."
The farm is still a work-in-progress. But the basic structure would entail interested residents either buying into the farm or volunteering to work on it, Eve Olsen said. Harvested crops would be distributed among members.
Edwards Addition's landscaper created a conceptual farm layout. Project leaders have consulted Oregon State University Extension Service officials and Master Gardeners for advice.
The Olsens planted a 2-acre cover crop of organic red wheat and malting barley, and another "test" quarter acre of tomatoes, beans and peppers.
The wheat was harvested last week. And "brewmeisters in the neighborhood are wanting some of the barley," Eve Olsen said.
Farm members will start planting row crops and possibly fruit trees in the spring, Eric Olsen said. Crops would be chemical free.
The farm would be established in phases, with several different fruit and vegetable varieties. There would even be space for a greenhouse and a children's garden.
Although Olsen's company had originally earmarked the space for homes, "if the farm turns into a great amenity and becomes essential to the fabric of the neighborhood, we're fine swapping the old plans out," he said.
Should things flourish down the road, with enough produce and interest, the farm could establish a community fruit stand, pumpkin patch -- "a little agritourism," Ruscoe-East said.
"I'm excited about educational opportunities with this, inviting the larger community to come view it," she said. "In my mind, that's beautiful."